JILL MORRISON has returned as Faye in the second season of A&E's Project Blue Book. Jill can also be seen in the highly anticipated sequel to To All the Boys I've Loved Before, titled To All the Boys: P.S. I Still Love You which premiered on Netflix. Later in the year, Jill will appear as a recurring guest star in Freeform's anticipated new series Motherland: Fort Salem.
AC: What can audiences expect from the new season of Project Blue Book?
JILL MORRISON: Audiences can expect a lot of twists and turns and for the characters to have some big, unexpected adventures. And the relationships deepen and expand. And it's totally awesome with lots of fun action!
Can you give us any teasers about what is in store for Faye?
Well, we have already seen that Faye does some favours for Mimi, and this situation continues to develop and maybe gets a little stressful. Faye goes thru some emotional despair this season and also shows the depth she would go for the people involved with project blue book.
Do you have a favourite line of dialogue from the new season?
Yes, it's coming up. Faye meets a famous historical figure, and gets to do some gushing. But it's also fumbling a little. So that was fun to do. But to be more specific, when I say to Mimi in episode five "for what?" when she thanks me.
Can you recall any funny moments from on-set filming?
We had lots of laughs. But there was one scene where I was standing between Hynek and Quinn's desk and I exit. The lens was tight and so was the set and we did not realize that I wouldn't be able to exit, so I slowly crouched down. It was hilarious. We all had to stay silent but laughed after. Michael and Aiden always made us laugh too. It's a very fun place to work.
Were there any particular challenges that came with the role this time around?
I have a scene coming up where I have to be very emotional, and I'm alone in the scene. So I just had to be really vulnerable and let go. And that was a challenge but also wonderful.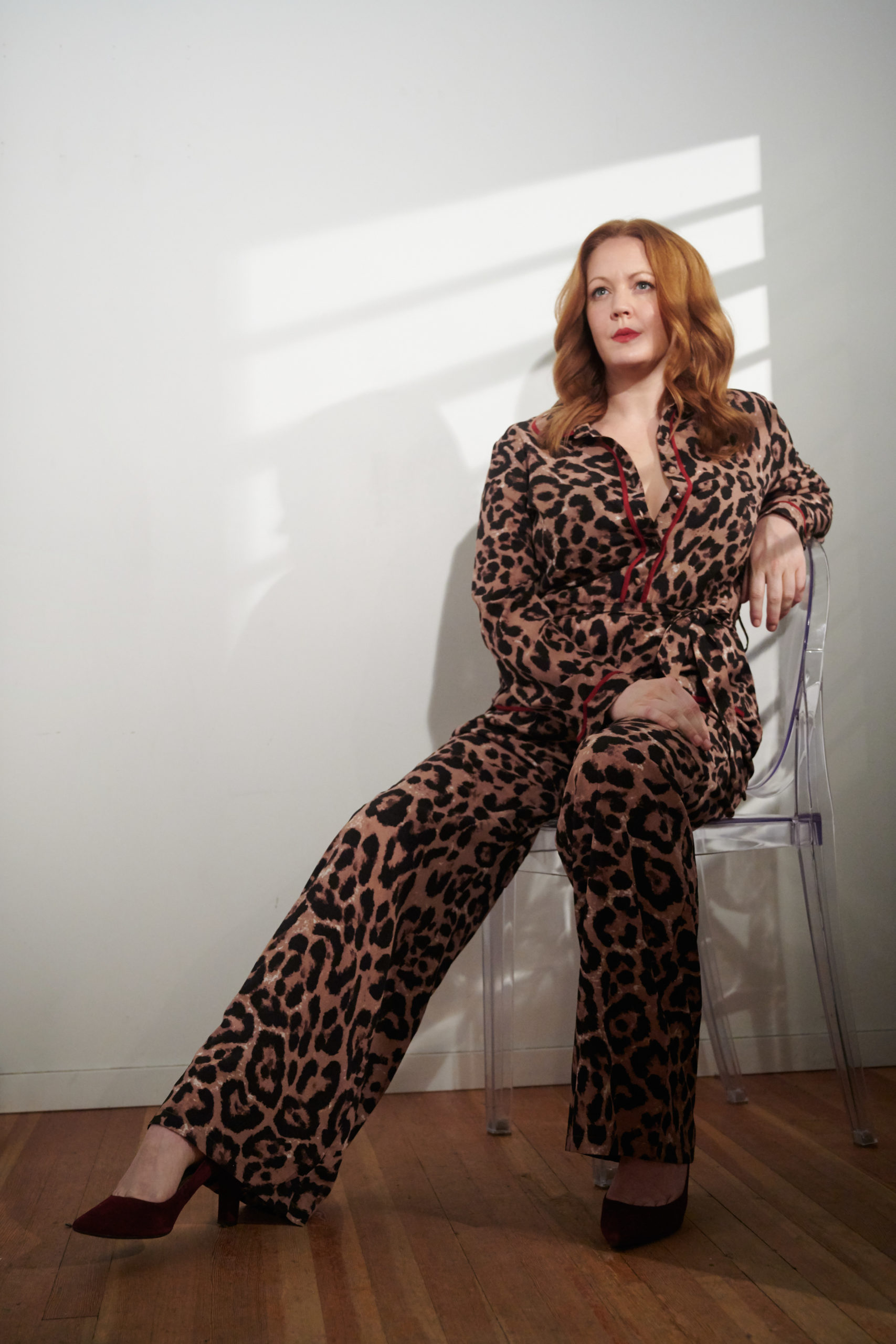 What do you think is the secret behind the show's appeal?
I think the secret is the great care that is taken in all aspects of the show. They are very diligent with the facts and what to play around with. The creative team is endlessly specific and making exciting choices. It offers twists and turns, and you never know what to expect.
How can you tell when you're reading a great script?
I can tell when I'm reading the script because I'm excited and caught up in it, when I can't stop turning the page. And the scripts I don't get, I'm trying to find out from others what happens!
As an actor, what are you still trying to learn?
What is most wonderful about the craft of acting, and what I have learned, is that the learning is endless. The growth is endless. It is always a work in progress. I find that very exciting and fulfilling. I continue to go to acting class to this day! I'm still always working on making sure I am very present at all times with the other actors.
When did you begin to see acting as a potential career avenue?
I didn't really believe or think about doing anything else with my life. I can't imagine, never could. So I guess always. I knew it would be difficult, is difficult. But it's worth it.
Just before Valentine's Day, To All the Boys: P.S. I Still Love You dropped on Netflix. How much can you tell us about the project?
The group behind this delightful series is seriously amazing. Such kind, funny, down to earth wonderful people. So filming was in that tone. I was able to do a lot of improvisation, so that was very fun. But I also wanted to make sure that it was truthful to caring about the seniors at the home Dorothy works at, but also showing how Lara Jean obviously affected the energy of the home with positivity. I loved working on it and the movie is so funny and romantic.
What was it like acting alongside Holland Taylor?
I was very excited to work with her! I have always been a huge fan. She was lovely. So gracious and professional and down to earth. She complimented me a couple of times, and I squealed inside (had to play it cool) and we just played in our scene and it was so fun!
As an actor, how can a great co-star impact your performance?
They can push you and pull things out of you that maybe you didn't know were there. The scene can go unexpectedly, which is a goal to the magic of acting.
In Spring, you will appear in Freeform's Motherland: Fort Salem. If you could cast a magic spell, what would it have the power to do?
[Laughs] Fun question. Probably a time machine, see my loved ones.
How important is social media to you right now?
I like social media. I find it fun to connect to friends, and people I don't even know. I love all the picture and videos of things I love (like animals). And it's a great way to promote yourself, which I feel has helped my career. Which means I act more, which means I'm happy!
What do you want the world to look like in 10 years?
Gosh, what a question. I guess I hope we have progressed in some manner. It seems that is the opposite of what has recently happened in our world. But my hope is high that good rises above. I'm also worried about the environment very deeply; I hope to see changes there. I'm sure we all do. But I do think what one person does matters, so I'm gonna keep doing my part as much as I can.
Everyone seems to have an app idea at the moment, what's yours?
An app idea. Maybe something to do with jokes! Put in a topic and a bunch of jokes come up for it…
If you had the chance to put something on billboards worldwide next week, what would it be? Or what would it say?
I would want it to be about justice, or lack of justice, when it comes to sexual assault victims.
In front of the camera. what is a fear you'd like to conquer?
Maybe playing a character who is held captive, that really scares me!
What can you tell us about your upcoming projects?
I get to be in Mike Flanagan's new show. The second season of The Haunting of Hill House, but with a different name. Oh my gosh it was exciting! I loved it. He's so kind and creative and funny. So that's pretty thrilling.

Aside from your upcoming projects, is there one thing you're particularly excited about for the future?
What's super cool about this industry, is all the different people I get to meet. So I guess I'm excited about all the different people I have yet to meet.
PHOTOGRAPHY: NOAH ASANIAS
INTERVIEW: ADAM CROOKES