CODY KEARSLEY is currently starring in Netflix post-apocalyptic zombie dramedy Daybreak alongside Matthew Broderick.
The genre-bending series centers on an apocalypse-ravaged city and the teens who've taken over. The Canadian Actor has also recently reprised his role as Moose in season four of The CW's smash-hit teen drama Riverdale. We caught up with Cody Kearsley, hoping for him to spill the beans on his latest projects.
Cody Kearsley On His Role In Netflix's Daybreak
AC: What can audiences expect from Daybreak?
CODY KEARSLEY – Audiences can expect a fun, unpredictable and hilarious adventure navigating through a ghoulie wasteland. Most people also end up connecting with one of the many tribes throughout Glendale, so it's fun to see which tribe you would belong to in the apocalypse.
AC: How does your character fit into the story?
CODY KEARSLEY – My character Turbo Bro Jock is the leader of the jock tribe which is the most dominant and feared tribe of Glendale. Most of the other tribes are under our control and bring us offerings in exchange for their protection. 
AC: What do you think was your character's ultimate goal?
CODY KEARSLEY – Turbo's ultimate goal is to protect the children. The new world is a scary place to live with many obstacles standing in the way of survival, therefore he rules with an iron fist to ensure no kid steps out of line and gets themselves eaten by a ghoulie.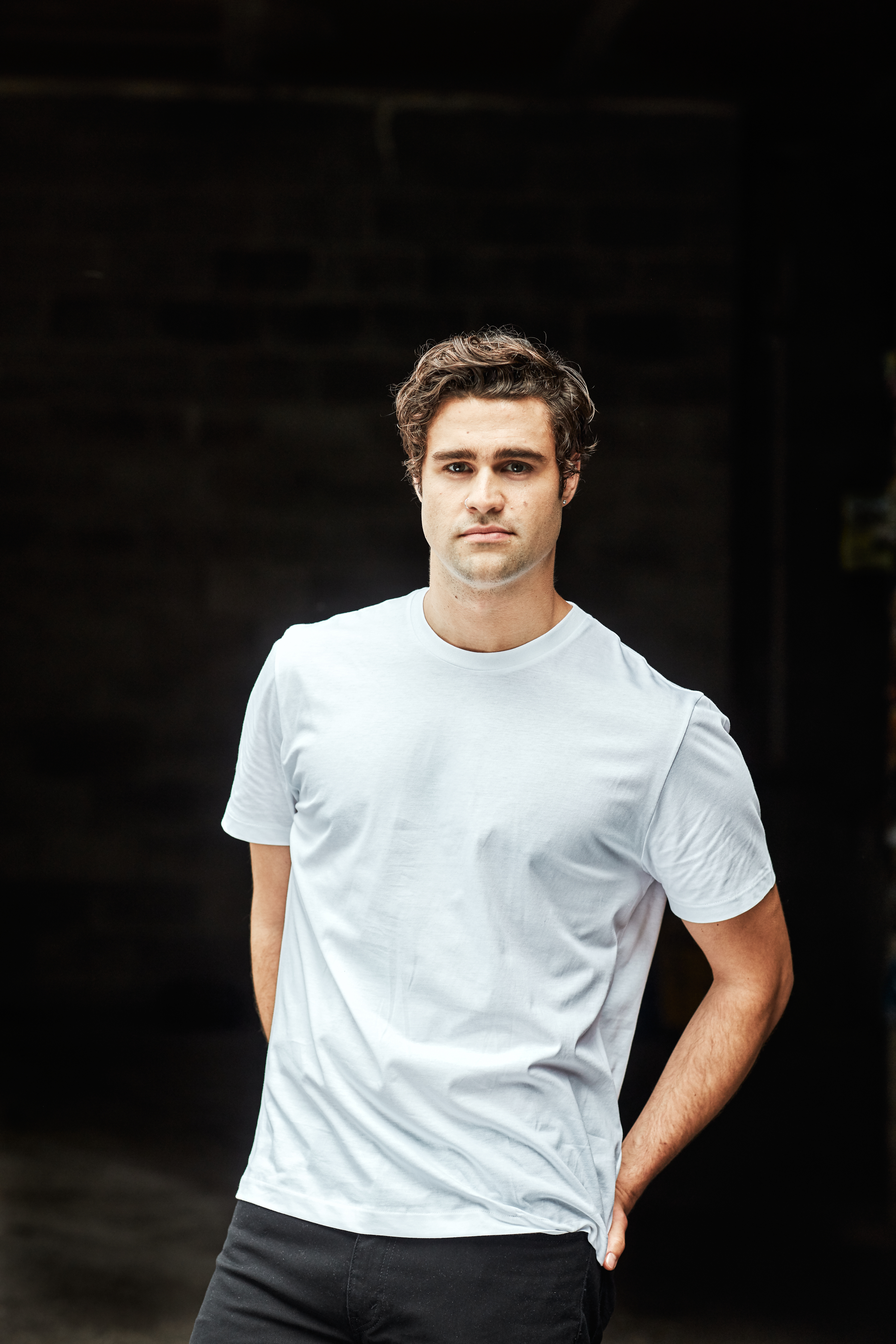 On-Set & Behind The Scenes Of Netflix's Daybreak
AC: Were there any particular challenges that came with the role?
CODY KEARSLEY – Not being able to speak and have my face hidden by a mask for most of the show was a challenge but also very liberating. It was a great exercise in exploring body language and finding a way to communicate with just a tilt of the head or a change of posture.
AC: Can you recall any funny moments from on-set filming?
CODY KEARSLEY – Albuquerque during the winter is cold and most of our tribe wears very little clothing. So, when we had 5am call times all of the bro jocks would be outside shirtless while the rest of the crew was bundled up with three layers of clothing. It was basically Jeante, me and about 50 men and women doing push-ups, punching each other and trying to find any way to stay warm in between takes, trying to hide our pain. I thought this was pretty funny.
AC: In the event of a real-life zombie apocalypse, where would you hide?
CODY KEARSLEY – Costco.
AC: What would be your survival strategy?
CODY KEARSLEY – I would barricade myself in a large space with lots of supplies. Hospital, school, grocery store, etc. Then I'd team up with a few people so we could all work together for survival. Some people would focus on barricading us in and setting up traps. Others would build sand filtration devices which would help get rid of radiation from the water. Others would take inventory of our food and others would go on expeditions to get any supplies we didn't have in our immediate vicinity. We'd have to work together to ensure our survival.
Talking About Netflix's Riverdale
AC: Let's talk about Riverdale. What do you think is the secret behind the show's success?
CODY KEARSLEY – I think that being based on the original Archie comics it appeals to an older demographic and the edgy, teenage drama appeals to a younger demographic. It covers a few bases.
AC: Can you give us any teasers on what might be in store for Moose?
CODY KEARSLEY – I think Moose is just trying to recover as best he can from his past trauma.
AC: Who is your favorite person to share a scene with on the show?
CODY KEARSLEY – On Riverdale? Casey Cott.
AC: What does a typical day look like when you're working on a show like that?
CODY KEARSLEY – Show up at my call time, raid the craft services table for some good food, then chill in my trailer until it's my time to shoot. There's always a lot of waiting around in television.
On Being An Actor
AC: As an actor, what are you still trying to learn?
CODY KEARSLEY – I'm still learning a lot about the technical aspect of lighting and cameras. I'd like to take some courses just so I can have a better dialogue with everyone working on set. It's all a collaborative effort so the more you know the more cohesion we can have when we tell the story. As far as character work, I have to start from scratch for every project because I'm building a new life. Acting is all about learning and exploring. It never stops.
AC: How can you tell when you're reading a great script?
CODY KEARSLEY – I get lost in the story and I walk away with more questions than answers.
AC: When did you begin to see acting as a potential career avenue?
CODY KEARSLEY – I've always known I wanted to be a performer. My mom gave me good advice when I was young: "Do what you love, and the money will follow". Acting would always be my career path even if I was still bartending two jobs and performing in 99-seat theatre.
Social Media, Technology & The Future
AC: How important is social media to you right now?
CODY KEARSLEY – I'm getting used to it. I like to share things that are important to me on it like environmental issues and animal rights information. I'm still getting used to people being interested in my personal life. It's a bit bizarre.
AC: What do you want the world to look like in 10 years?
CODY KEARSLEY – I hope we begin to treat our planet with respect. That includes the environment, the animals, each other and ourselves. We have unlimited access to information and are aware of many different social issues. I hope we all begin to expand our circle of empathy and grow as a planet.
AC: Everyone seems to have an app idea at the moment, what's yours?
CODY KEARSLEY – I'm actually in the process of launching an app right now called Docket. It's a client scheduling app for business owners. 
AC: If you had the chance to put something on billboards worldwide next week, what would it be? Or what would it say?
CODY KEARSLEY – Inhale. Exhale.
AC: What is a personal fear you'd like to conquer?
CODY KEARSLEY – Self-sabotage.
AC: Aside from your upcoming projects, is there one thing you're particularly excited about for the future?
CODY KEARSLEY – I'm really excited to travel and learn new languages.
PHOTOGRAPHY: KYRANI KANAVAROS
INTERVIEW: ADAM CROOKES