ALISTAIR PETRIE can currently be seen in the new Netflix comedy-drama Sex Education, alongside Gillian Anderson and Asa Butterfield. In April, Alistair will be seen in the superhero-epic Hellboy and then returning to espionage-thriller series Deep State for a second season later in the year.
AC: All of the projects that you're acting in this year are incredibly different. What makes a role interesting to you?
ALISTAIR PETRIE: A heady combination of script, part, director, production, creative team and cast. That's a pretty delicate algorithm to fulfill. I do subscribe to the notion that a huge part in a terrible script is a complete waste of time. Although, that said, I also realize there can be bills to pay. 'Interesting' doesn't ever necessarily mean 'big'. Give me someone with flaws, someone struggling with something, someone trying their best, trying to figure out how to be given the circumstance they exist in. Sometimes you can come across underwritten characters in a really good piece of writing and you feel an instinctive grasp of who they are – a grasp that tells you no-one else can bring this person to life. That's exciting. Then, if the hirers and firers let you, the collaboration begins. The party starts.
Tell us about your role in Netflix's Sex Education. How does your character fit into the story?
The Mighty Mr Groff is the Headmaster of Moordale School trying to keep a grip on an institution that is inhabited by teenagers doing their best to figure out who they are, want they want to do and who they want to do it with. Like most Headteachers of any Secondary School, he's like Noah on day one of the Ark trip standing at a lectern trying to tell the animals how to behave and and what do. Good luck with that. There's an added issue in that his teenage son is a pupil at the school which presents challenges for the both of them. He's not the most compliant of offspring.
Can you recall any funny stories from on-set?
My final shot on the series was a solo improvised dance sequence to be done from one angle in a single take. Yes, really. We were pushed for time, I blithely ignored the offer of a choreographer and I told the entire crew very confidently 'don't worry, I've got this' knowing everyone wanted to get this done and get home for the weekend. I was having so much fun, I kept pleading for another take just so I could bust out some moves I'd kept in a box for twenty plus years. The final straw was my when I asked if I could do it yet again, this time channeling Tom Cruise in Risky Business. The silence was deafening.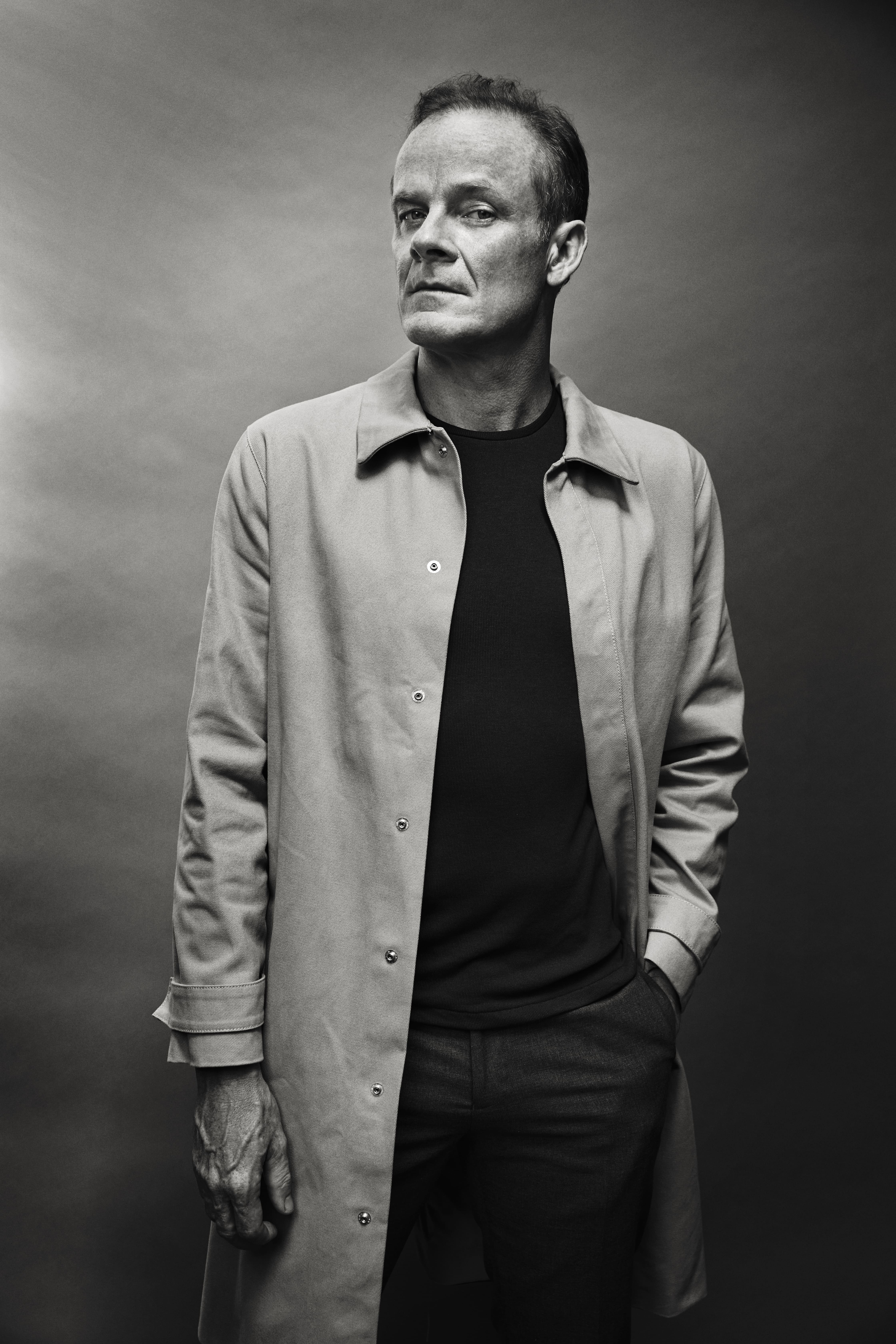 As an actor, how can you tell when you're reading a great script for a project?
I can have a very immediate and visceral reaction within a couple of pages. My stomach jumps and my eyes can water. Scripts arrive from my agent, Roxane, via email so you can be anywhere when the phone goes 'bing'. Being sent any new script is exciting. I can't help but immediately start reading it, if only a few pages to get a sense of it. If the first couple of pages are good, all verbal hell can break loose. I've been on a bus, taxiing on a plane, walking the dog and been heard to say too loudly "Holy f**k, this is great!". Then your job becomes to convince those involved to actually ask you to do it. If the email also says, "they'd love to offer you the role of 'x'" then break out the party streamers. Even on the bus.
What's the best script you've read?
Utopia by Dennis Kelly which we did for Channel 4 was pretty astonishing. The skill, of course, is for a director not to mess it up. With Marc Munden at the helm, that was never going to happen. The Night Manager was hugely seductive too, again marshaled wonderfully by the incomparable Susanne Bier. I read a play years ago called, I think, Prince On A White Bike that a regional theatre was doing. it was written by a first time writer in his eighties who had always wanted to write a play but didn't have the courage. I cried when I read it partly because of the piece but partly for being denied future brilliant work by such an amazing writer.
Deep State will soon be returning – what can we expect from the upcoming second series?
It goes big; bigger than season one, both thematically and in its scale. Set two years before and six months after the events of season one. The mighty Walton Goggins joins as does Victoria Hamilton, Alexander Siddig and a vast new talent, Lily Banda. We spent two and half months in Cape Town and then moved to Southern Morroco on the Algerian Border and the Northern Sahara. It's very, very good and I'm hugely proud of it.
An action-packed trailer for Hellboy was released just recently – did you get the chance to work with CGI? How did you find the experience?
You don't so much work with CGI rather than work without it. It feels the bigger the CGI they will do in post production the more daft it can feel on the day you shoot the 'live' bit of the sequence. But the job is to get over that and go for it; believe it and make it happen. Special effects wizards and the director describe what it will eventually look like and you fill in the gaps. So you have a picture in your head and then dive in. The result, and I've seen bits of a CGI heavy sequence we did in Hellboy, is breathtaking. My son is studying Special Effects at University and what a magnificent playground he's entering.
Are you a comic book fan?
As a kid living in the Middle East, access to TV and film were sparse so comics were my way of finding stories. All sorts, from Tintin through to X Men and Batman and beyond. Having done Rogue One: A Star Wars Story, my character, General Draven, features in the Marvel Star Wars Comics. It's huge thrill, I've bought dozens of editions.
Is there one character trait which unites all three of your upcoming roles?
If I combined them all into one, he'd be a gun-toting, dancing chocoholic, who frequents sex clubs, drives a Lamborghini and knows ten names for Marijuana. All three wear a tie at some point.
'Sex Education' drops on Netflix on January 11, 2019
PHOTOGRAPHY: DAVID REISS
INTERVIEW: ADAM CROOKES
Send a Letter to the Editor about this Article