ADRIA TENNOR – best known for her recurring role on Mad Men and her part in the Academy Award-winning film The Artist – has just released a short-format IGTV digital series entitled Fetish.
AC: What can audiences expect from Fetish?
ADRIA TENNOR – It's funny and weird and dark and sweet. We hope it's also moving and relatable. It is for sure a QUICK WATCH which we hope leaves audiences wanting more. We made Fetish bite-sized so you could watch an episode while waiting in line at the grocery store, little did we know that we'd all be waiting in line to get into the grocery store. So, you can watch it then, too!
AC: How does your character fit into the story?
ADRIA TENNOR – Paula Wheeler is our protagonist and an unlikely hero. She's a down-and-out freshly divorced single mom who, on top of everything else, suffers extreme humiliation at a frenemy's in-home shopping party because she forgot to wear underwear. Shell-shocked, Paula attempts to leave the party, chanting a favorable (but more than likely ineffective) mantra to herself, when she is suddenly kidnapped by an S&M dog-masked, literature obsessed fetishist who dresses her in bear-themed lingerie and makes her read to him from Uncle Tom's Cabin.
AC: What do you think is your character's ultimate goal?
ADRIA TENNOR – Paula just wants to hit the reset button on her life and be transported back in time to when she was married, employed and sane. She's not looking for a change. It just happens on its own without her consent and in a big way. This complete sideswipe has her reeling and contributes to her off-kilter decision to give fetish fulfilment a try. Ultimately, she just wants to provide for herself and her beloved tween daughter Maude, and to pay for her neon orange capri tight casualty at her frenemy's shopping party, but in the process, she uncovers a way to make money that she also finds scintillating.
AC: Can you recall any funny moments from on-set filming?
ADRIA TENNOR – Filming this was a blast, and it's a comedy so most of the time we were having a ball. I have to say, I was blown away by Drew Rausch's portrayal of Ted, Paula's ex-husband. He only has two scenes in the whole show (we will definitely see him more in subsequent seasons) and one of them is off-screen when we hear him in the bathroom dealing with a colon cleanse kit gone wrong but he took every line and every beat and added his own spin on it. There's a moment at the end of his scene in episode 5, he's doing yoga poses after he's fired Paula from her job at his insurance office and Drew added a sound effect – I'll just leave it at that! And we all just died laughing. He's a terrific improver which can only come when you've really fleshed out your character and prepared.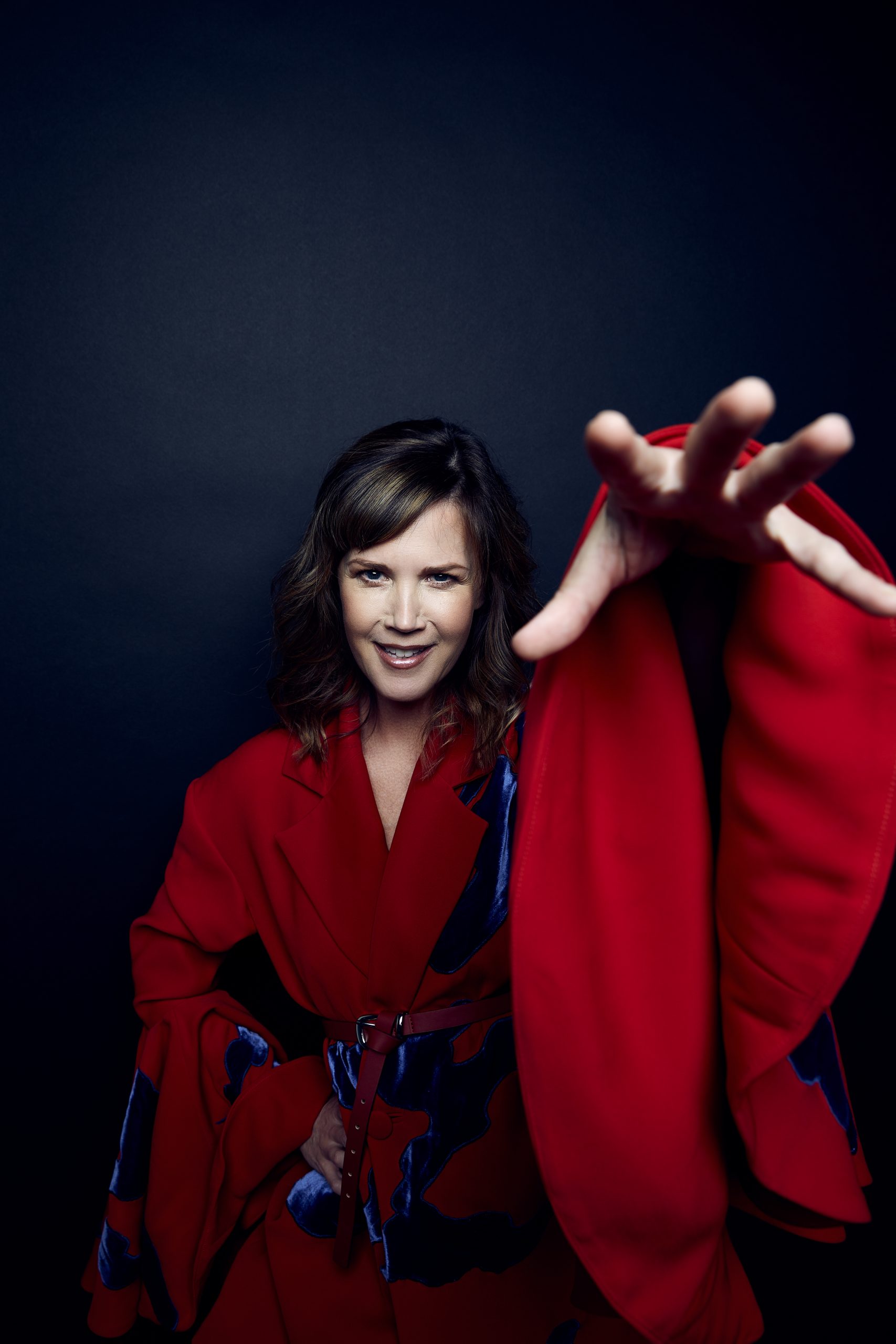 AC: As an actor, what are you still trying to learn?
ADRIA TENNOR – HOW TO GET MORE WORK! It's so hard to garner roles, jobs. Of course, this pandemic is not helping, or maybe it is. The industry shut down, but it seems to be slowly creeping back up to operational. I just keep making my own work. I guess that's what I'm learning – how to balance auditioning and being present for the opportunities and auditions that come to me, while still fulfilling my own endeavours and projects.
AC: How can you tell when you're reading a great script?
ADRIA TENNOR – When I'm thinking to myself, "This is a great script" instead of "why is this getting made?" When I admire the writer and the material and I'm sucked in enough to not be thinking how I would have rewritten it or just made something else. Usually, it's when the writer assumes a smart person is reading their script and doesn't over-write or over-explain the action, but instead uses their words to forward the plot.
AC: When did you begin to see acting as a potential career avenue?
ADRIA TENNOR – When I was six my grandma took me and my sister to see Annie at the Fisher Theater in Detroit. Then I saw hundreds of little girls like me auditioning for the touring company on the five o'clock news. I wanted my mom to stop making dinner and take me to the auditions. From then on I never stopped wanting to be an actor.
AC: What do you want the world to look like in 10 years?
ADRIA TENNOR – More equality, please. I'm grateful that there has been a shift in diversity and the portrayal of the real world in media. I like turning on the tv and seeing diversity in the content, in the perspective – material made by women and people of color. I'd like to see this trend permeate our consciousness and our world. Geena Davis' institute for gender equality has the motto, "If she can see it, she can be it." This doesn't just apply to gender, but also race, and everything else. So, the answer to your question is: equal. I'd like the world to look more equal.
AC: If you had the chance to put something on billboards worldwide next week, what would it be? Or what would it say?
ADRIA TENNOR – Going with my gut on this question: I'd print "FOLLOW YOUR HEART. IT'S YOUR COMPASS. FEAR IS ALSO YOUR FRIEND. FOLLOW IT. AT THE END OF ALL YOUR ANXIETY IS A POT OF GOLD. LEAN INTO LIKE A LEFT HOOK OR A SKID ON ICE. TAKE THE HARD ROAD. MAKE A DIFFERENCE. DON'T SETTLE. BE BRAVE. DO THE HARD THING. TAKE A STAND. DON'T BE COMPLACENT OR COMPLICIT. ROCK THIS. IT'S YOUR LIFE, AND YOUR LIFE PAVES THE ROAD FOR MANY OTHER LIVES. SO BE RESPONSIBLE WITH IT. TAKE MY HAND AND ALL HANDS AND PULL US UP WITH YOU.
AC: How important is social media to you right now?
ADRIA TENNOR – It's way too important. It's embarrassing. I am quarantined alone, so I have become addicted to social media. I look at Instagram and TikTok way too much, but it helps me feel connected to the world. I'm also working to promote Fetish right now and social media is an important, vital tool in doing that. So, that makes it ok, right? I'm not a total loser, right? DM me, and LMK, okay?
AC: What's the biggest realization you've had this past year?
ADRIA TENNOR – Our minds are extremely powerful. If we can harness them, we can create anything and change everything.
AC: Everyone seems to have an app idea at the moment, what's yours?
ADRIA TENNOR – I guess a dating app that actually works?
AC: What makes you feel nostalgic?
ADRIA TENNOR – The holidays! Little twinkling lights on anything. Little kids and babies. Puppies. Especially long-haired dachshunds.
AC: Do you have a personal fear you'd like to conquer?
ADRIA TENNOR – I have conquered quite a few of them. I'm pretty terrified of most things so that has made it necessary for me to crush my fears. I was terrified to do stand up, and now it's like brushing my teeth. I was terrified to do a strip tease, but after a few years of pole dancing classes, now people have to beg me to stay dressed. I guess my biggest fear these days is that I'll never live up to my full potential, that I'll never get over my self-doubt and judgement enough to really soar and do what I'm supposed to do. So, I'm working on conquering that.
AC: Aside from your upcoming projects, what are you excited about for the future?
ADRIA TENNOR – This has been a difficult year for everyone. We've all had to make very difficult shifts in our lives, and unfortunately, I don't think we've seen the worst of what this global shutdown will ultimately yield. However, I think this unavoidable reset will actually result in a lot of necessary and positive change. I'm optimistic about those changes and excited about what they will bring in the long run. While it's sad that it took a global pandemic to force the world's attention on these injustices – the disparity between gender and race equality, among other things – I am excited to witness and participate in these changes and all of the inspiring stories I'm sure that they will bear.
PHOTOGRAPHY: STORM SANTOS
INTERVIEW: ADAM CROOKES