MADISON MARGOT has just released her latest single In The Morning. The Los Angeles-based singer and songwriter began writing songs at the age of 11 years old as well as playing many instruments that include guitar and piano. We caught up with Madison Margot to talk about her new single and journey so far as a music artist.
AC: In the studio, do you have a fear you'd like to conquer?
MADISON MARGOT: The studio can be tricky at times! Sometimes my confidence lacks. I'll have this weird fear that my vocals won't come out as good as I want them to. That causes me to get nervous and hold back. This is just due to wanting to make things perfect. When that happens, I like to take deep breaths and remind myself to have patience. I remind myself that my studio time is my time to produce the best vocals that I can, and it doesn't matter how long it takes.
What about outside of the studio?
I have this fear of not being the best that I can be due to fear. I overthink things and it all stems from doubting myself and my abilities. If I overthink, I take myself out of it and don't grow. I think that all of my growth has come from running towards the things that scare me. That's how I conquer my fears. I'm my best self when I just dive in rather than think on it.
Let's talk about your new single In The Morning. What does the song mean to you?
I would love to! In The Morning means so much to me. I wrote it about wanting someone who only wanted me when he was under an influence at a party. But most importantly, it is a song about the cycles of a hopeless romantic. How we tend to accept less than the best when blinded by infatuation. How we are fueled by empty sweet nothings. We break and mend and do it all again.
How did your childhood inform your musical influences?
I was a major Britney Spears fan throughout my whole childhood. I remember watching her live shows on tape and just dreaming to be like her one day. The singing and dancing, the sparkly clothes and high feminine energy. She has a major impact on how I see the pop world, even now. I believe in putting on a show and giving it your all.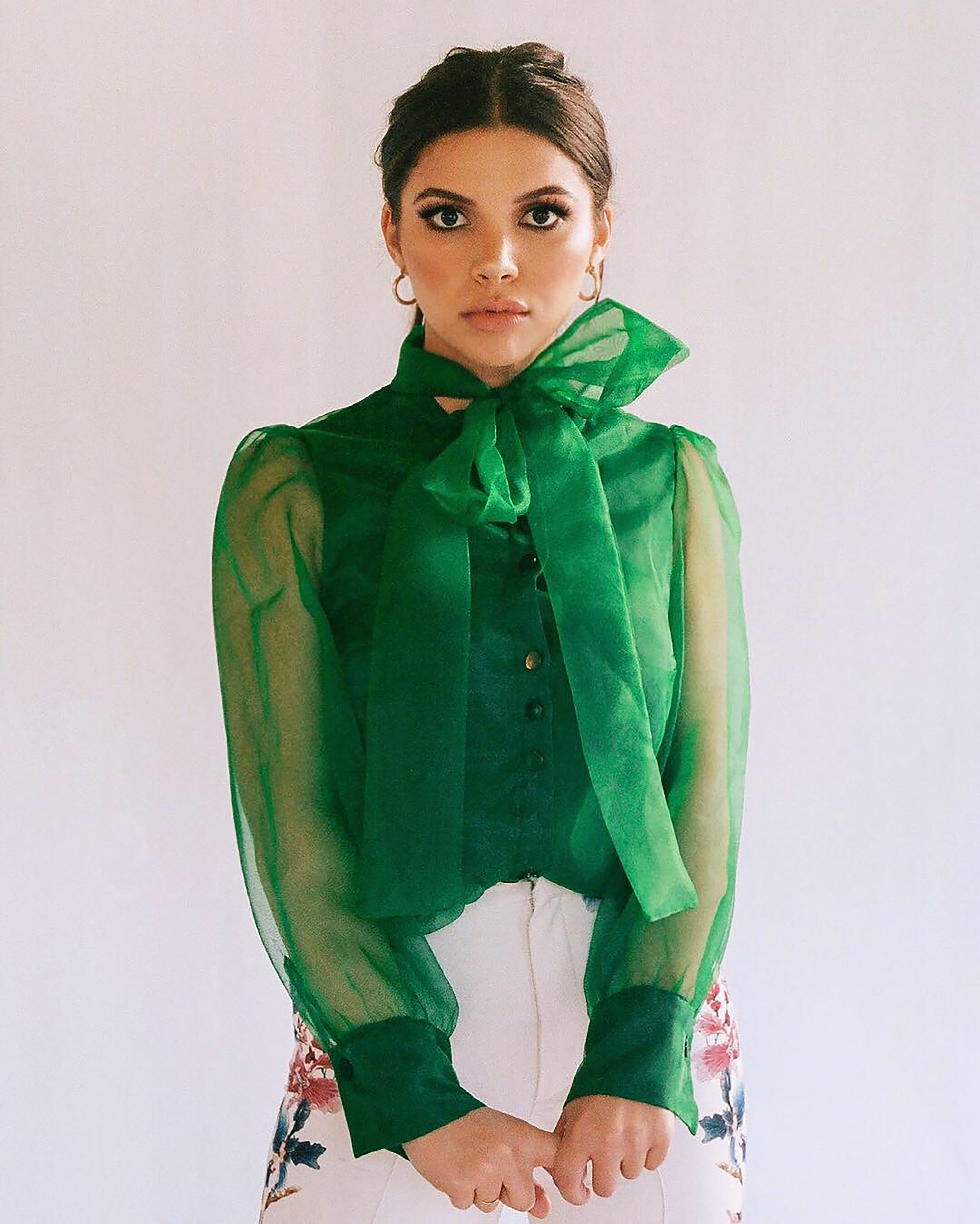 Where does the creation of a song begin for you?
The creation of a song begins in all different ways for me! I think that is the most exciting part of songwriting- you just never know when it's going to hit you. Sometimes I will be driving and a melody or lyric will rush to my head. Sometimes I'm sleeping and an entire song will play in my dreams. It is really interesting. Then I will record a voice memo or write in my notes, and then take it to my piano or guitar and begin expanding it.
Everyone seems to have an app idea at the moment, what's yours?
That's a good question! I have never thought about an app idea! But I think an app for female creators would be cool. I'm sure it exists already, but an app that has female directors, writers, singers, artists and you can hire and work with each other. It's hard to find them and this could make that easier!
How important is social media to you right now?
Social media is important for creators, but I don't really use it as much as I should. It can be a bit overwhelming trying to keep up, so I like to take time away from it and just live my life.
What is the funniest fan request you've ever received?
I haven't had anything strange happen! I don't think I'm big enough for that yet!
Ahead of a gig, do you have any pre-show rituals?
I pray and then I jump around to get rid of the nerves!
What do you normally have on your rider?
CHOCOLATE.
What do you want the world to look like in 10 years?
I hope that the environment is being saved. I hope for more equality amongst genders and races. I hope people are happier and the world is safer. I would love to see great leaders in power who can make great change.
If you had the chance to put something on billboards worldwide next week, what would it be? Or what would it say?
"Follow your dreams" would probably be it. I think this world would be a lot better if people did what they loved. I know there are a lot of obstacles and not everything is easy but doing a little something to feed the soul is so good and important.
You've recently been working with Aid For Africa. What inspired you to get involved?
Aid For Africa is a non-profit charity that helps children, families, and communities in Africa. Whether it's helping children get an education or providing medical care, they do so much great work. I love to donate to them because of their incredible projects and missions. I hope to get really involved one day.
How can others get involved?
Check out their website! So many cool things to read about and get involved with. Donating is also great if possible.
Have you been thinking about a New Year's resolution for 2020?
I hope to keep growing as a human and put out a lot of music and play some shows. I want to stay healthy and happy and be surrounded by the people I love! Travel! Give back to the world! I also want to keep overcoming that fear of not being the best that I can be due to fear.
PHOTOGRAPHY: CAITY KRONE
INTERVIEW: ADAM CROOKES