KTJ & CARLY are a force to be reckoned with. The Texas-native duo has just released their latest single Moonlight which is entirely self-written and produced. After the success of their first single, On Your Mind, the duo performed a sold-out show at Los Angeles' iconic Hotel Cafe. We caught up with the newcomers to talk about their new single and their recent move from Texas to Los Angeles.
AC: Let's talk about Moonlight. What does the song mean to you?
KATIE: We wrote moonlight a few years ago after right after my boyfriend and I ended things due to long distance. At first, the song was in a minor key, and wrote it for the sole purpose of letting my feelings escape and to let it all go. At the time, I had no intention of releasing it to the world and letting people know my thoughts. I did it solely for my own happiness and put it behind me and immediately moved onto a happier life, towards bigger and better things.
Being able to express myself through music weirdly allows me to move on from heartbreak faster than normal, and it helps me discover new things about myself. When Carly and I became a band, I got over my fear of letting people hear my lyrics, as I was always feared they would think I was weak. I realized letting people hear your vulnerable words shows strength, and it changes people's lives for the better to know they aren't alone.
This past summer, we dug the song back out, changed it to a major key, moved the verse to the bridge and added a bunch of new lyrics; it became something completely new and different from what it once was. Personally, it turned into a symbol of growth, a recovery from heartbreak, and a reminder that even though sometimes we feel completely alone in this world, and we feel that no one understands the heartbreak we feel sometimes, every single person experiences it in their own ways and that there's always a light at the end of a dark tunnel.
You recently moved from Texas to Los Angeles – how are you finding the transition?
CARLY: It is certainly different. Texas was our home for our entire life, and it is very different here. The people, the traffic, the weather, the expenses, etc. It has taken a little adjusting, but we really love it here! The best part is having a great group of people in our lives who are truly there for us. It is hard to find good people in the world, especially in a city this big, but having a solid group of people in the city to support us has meant so much to us, and we are so lucky to have them. It has made this big transition so much easier and comforting. -Carly
KATIE: Everything is different. The people, the traffic, senses of humor, the weather, etc. For the most part, it's absolutely amazing. I don't like traffic, but listening to new music in the car is a great way to make the time fly.
You've just performed at Los Angeles' iconic Hotel Cafe. What was the experience like?
CARLY: To be able to do what you love, in front of the people you love, in a venue as iconic as Hotel Cafe was so much fun and humbling. We had such a fantastic time, and it really touched us, to have these people come out and support us. Performing at Hotel Cafe was such a great experience, but just the beginning. We love it there and it was, and will always be, an honor to perform there!
KATIE: From the acoustics, the people, the staff, and the many other artists that perform there, Hotel Cafe has one of the best vibes I've witnessed in LA so far. The room is absolutely beautiful, and the people that come there to vibe out are so kind and sweet. We can't wait to perform there again!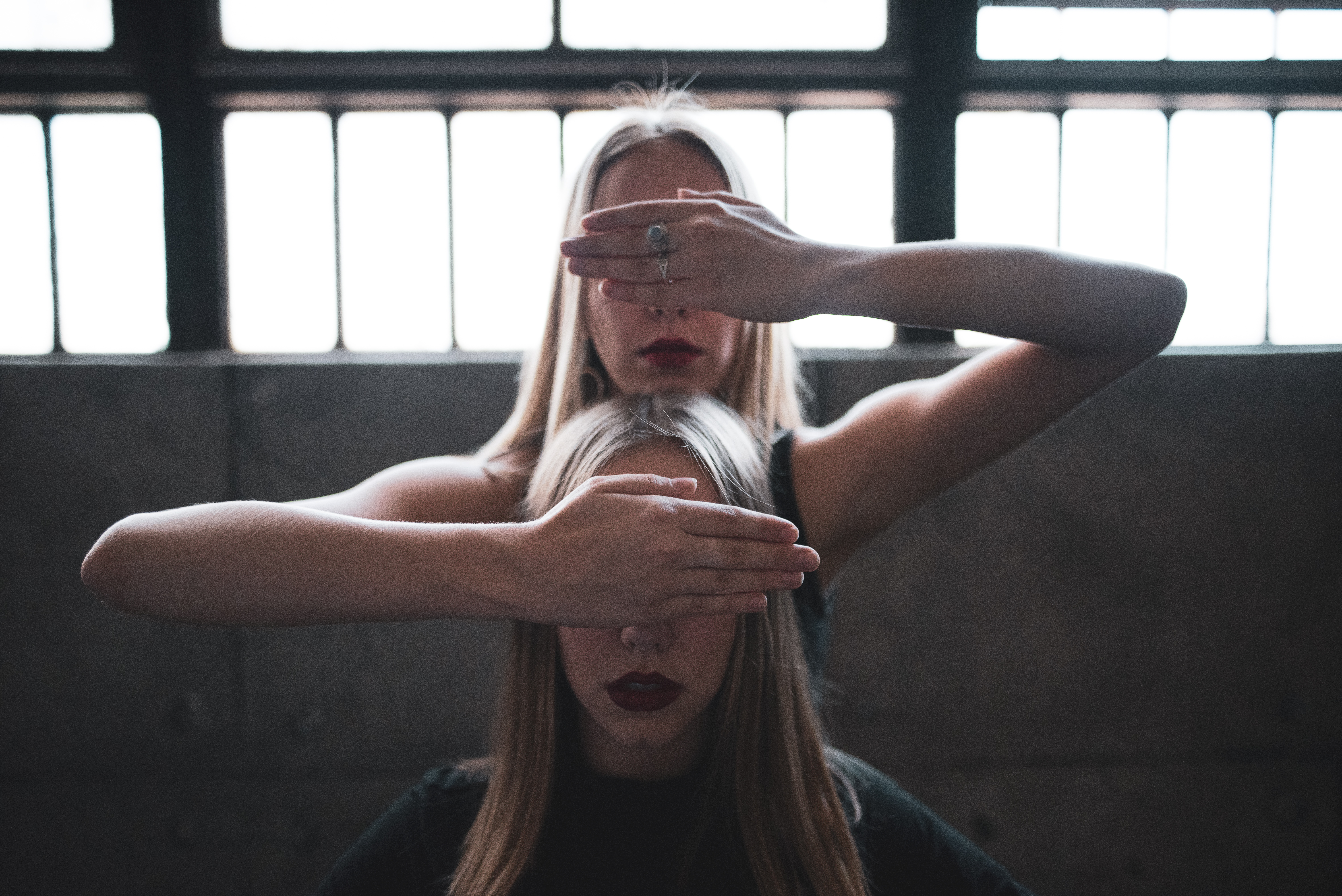 Do you have any pre-show rituals as a pair?
KATIE: We always do vocal warm-ups, make sure we drink lots of water, and we always give each other support and talk it out before we go on and kinda calm each other down. If one of us is nervous, the other one will help them relax and vice versa. We know each other well, and are a great team; we know that we have each other's backs, no matter what.
How important is social media to you right now?
CARLY: Social media is so important. This is the way to get growth in listeners nowadays, to grow as artists. Most of the artists that kids will find today, they find through social media. I know that most of the artists I find come to me through social media. It is how this industry works, and the way that many artists achieve monetizing. Not only that, but it is also the only way that we can be in touch with all of our listeners and supporters. We can tell them about upcoming shows, songs coming out, updates. Most of our following from Texas and they can still stay in the loop with everything that is going on with our careers through social media.
KATIE: Social media is a very important thing for all artists because it's one of the best ways to reach out to people and spread music. As important as it is, it's also important to know that not everyone's life is as amazing as their Instagram shows and to not let yourself get down about it.
What do you want the world to look like in 10 years?
CARLY: In ten years, technology will have advanced tremendously. I would like to see technology be put into better use than it is now. It has already helped a lot, but I think that we could figure out a way to help it benefit us rather than destroy us as a society. Technology doesn't have to always be bad as some people claim it to be; it can be used to help the environment, for philanthropies, to spread art, and to spread love. I know that in ten years, technology will have advanced, so I'd like to see the positives in that.
KATIE: It's literally almost 2020 and people still litter. I hope the world becomes a litterbug free place. Please stop littering, because if you litter you're basically going to kill everyone! Thank you for coming to my TED talk.
Everyone seems to have an app idea at the moment, what's yours?
CARLY: A cool app idea I always think about would be to make an app platform like LinkedIn that connects primarily music artists, managers, and labels, set up networking tools, and possibly be able to arrange writing and producing sessions on it. Almost like an IMDb Pro or LinkedIn account mixed with Google Calendar, but for musicians.
KATIE: With the amount of apps out today, some form of this probably already exists, but it sounds like it could be really beneficial to musicians looking to collaborate and network, that don't know how.
If you had the chance to put something on billboards worldwide next week, what would it be? Or what would it say?
KATIE: We would use one of the lyrics from a project we are releasing next year. "Kind of funny to think sometimes, people pretend like it's all sublime", would fit best I think. It is about how society often puts on a fake smile and pretends like everything is fine, but in reality, we should all just come together, completely raw and honest about our flaws and who we are. We might find out that we are all not so different after all.
Do you each have a personal fear you'd like to conquer?
CARLY: A fear that I am still trying to overcome is failure. I am a perfectionist and find myself to overthink. This career can get hard, and I am my own worst critic. The two often don't mix, because when something doesn't go your way, artists must just learn and get better. Failure in my eyes is very different from a normal person's eyes because I tend to judge myself harder than anyone or anything. I fear the future, the hardships of this career taking over. However, it is something that I am and have always learned to deal with. I have been prepping for the entertainment industry as soon as I could talk, because I knew I wanted to do this, no matter what. So, stressing and overthinking about fear of the future is something that everyone deals with, and is just something I personally would like, and honestly, need to conquer.
KATIE: My personal fear is living a traditional life. I would rather try and fail then let that happen. I want to make something meaningful and different for my life, and I hope I can somehow help other people make their lives meaningful in their own ways.
Aside from your upcoming projects, is there one thing you're particularly excited about for the future?
KATIE: We are very excited to perform in Miami in December because we've never been there and I always hear that it's a load of fun. We're also ecstatic to start scoring a feature film in the near future God Save the Queens. We are also really excited to get started on an EP or LP to release possibly towards the end of next year.
You can listen to KTJ & Carly's new single Moonlight here
Follow KTJ & Carly on Instagram
INTERVIEW: ADAM CROOKES