London-based singer-songwriter JAROD LAWLEY has just released his latest single Everything That I Need You To Be. The single follows previous releases Tonight and Gordon's Gin, further establishing Jarod as an artist to watch.
AC: Let's talk about your latest single Everything That I Need You To Be. What does the song mean to you?
JAROD LAWLEY: This song is about how I like things to be, and it explores the darker side of my taste and aesthetics! It is about how I was influenced by watching old movies. I fell in love with the vintage glamour of them, the sinister undertones, and this song expresses how I like to re-live this in my everyday life and with the people close to me.
Where does the creation of a song begin for you?
With this one, it began with the guitar riff that you hear in the chorus, and my vocal line also follows that. I was a guitar player before I was a singer so that's where most of my ideas originate. I enjoy exploring chord progressions and improvising vocal lines on top until I get something that sticks. But I also sometimes get ideas seemingly appearing from nowhere and that's when I'm up at 4am writing things down and singing words into my phone!
How did your childhood inform your musical influences?
Interesting question! As a child, I was most interested in two things, history, and ghosts! So my obsession with the past has always been there, and I've also always had an interest in the darker side of things. So it doesn't surprise me too much that now I create music which echoes both of these inspirations.
As a child, I didn't grow up in a musical household, so the only thing I was exposed to was chart music from the TV and radio. However when I was 10, I started playing guitar, and that's when I got more seriously into music, because I started learning to play Black Sabbath, Jimi Hendrix and Led Zeppelin songs, so I became much more seriously involved in music.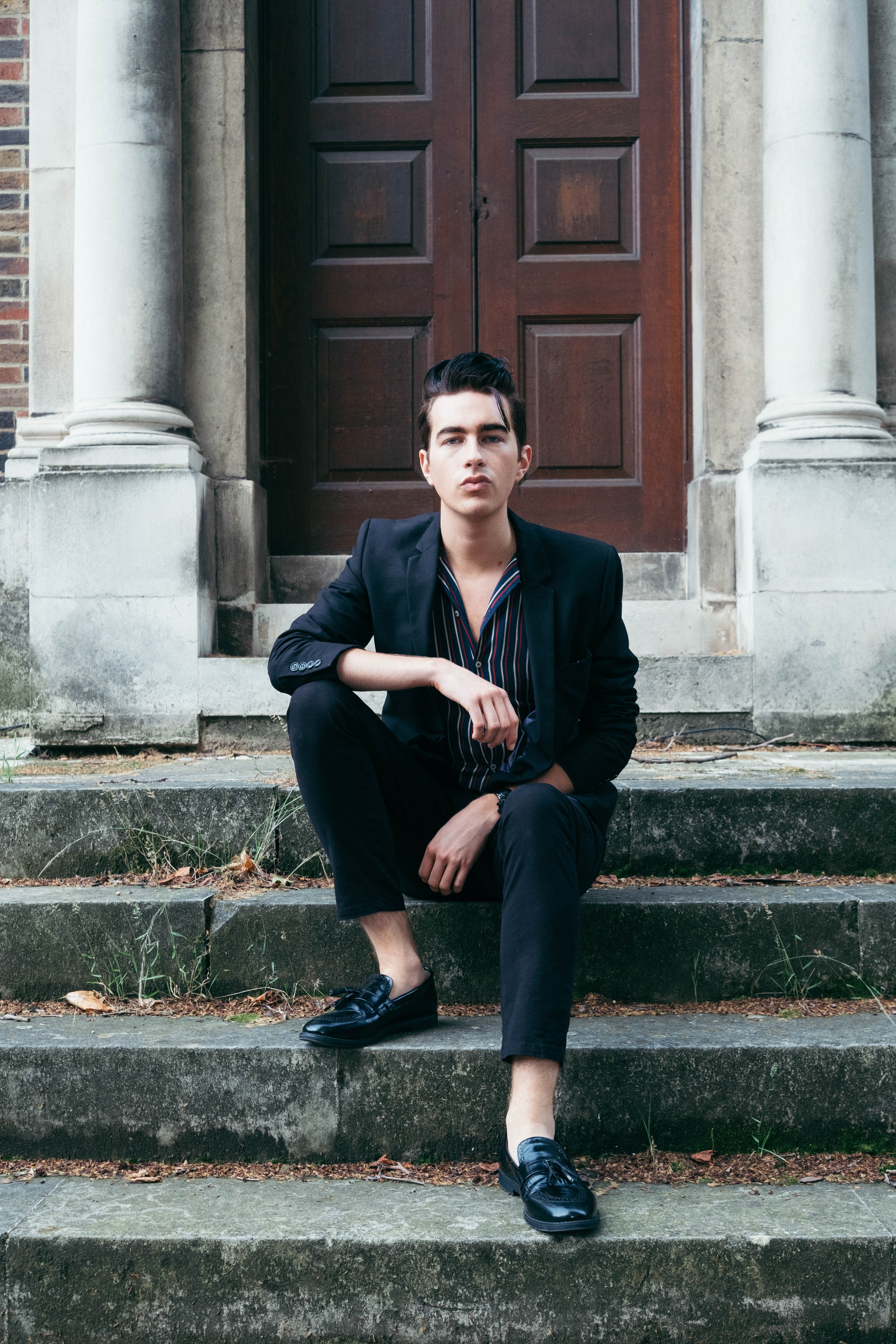 You recently released a video for Everything That I Need You To Be. One of your fans compared it to a David Lynch movie in the comments. What was the initial concept that you had in mind for the video?
I wanted to create a neo-noir. I love the style of movies from the 1950s that are low lit, and featured mysterious but alluring characters. Something like Kiss Me Deadly, Scarlett Street or The Big Combo. I had this archetype of a femme fatale, which we portrayed in the video with my girlfriend, and then I showed the dynamic between us and the world I've created. I haven't actually seen too much David Lynch but I believe he was also a fan of the noir style of film making, so that's probably where that link comes from.
Ahead of a gig, do you have any pre-show rituals?
I don't really drink alcohol beforehand, and I try not to eat very much either because I thinks it's good to play energetically and have that hunger in you! Getting ready for the gigs in terms of choosing which suit I'll wear, styling my hair, is probably the closest I come to a ritual, but I do that every day.
How would you describe your work ethic as an artist?
I work hard – I still have a full time job but music is my number one priority so I put as much energy and time into it as possible. My favourite thing to do is to write songs, organise shoots and create visuals, so even though it gets tiring at times, I wouldn't want to be doing anything else! I think artists today have to have a strong work ethic, especially as solo artists, because we have no band members pulling us along, it's all down to our individual motivation and dedication.
Are you currently working on new material?
Yes, I write a couple of new songs a week and do quite full demos for those. I'm hoping to get into the studio and have my new song done by the end of the month, with a release date in January. The new single is called Company, and it's about a one-night stand.
How are you listening to music? (Streaming, vinyl)
Both! Day-to-day I like to stream music, connect to my Bluetooth speaker and listen to my favourite new tracks. However, I also have a record collection that contains a lot of my favourite albums. Vinyl can be expensive when you're buying new albums, but I've been lucky to know people who got rid of their collections, and I've also come across some good second-hand shops over the years. So most of the vinyl I own is from the mid-50s through to the late 80s.
Everyone seems to have an app idea at the moment, what's yours?
I think the world is a bit obsessed with apps and phones! Putting your phone away would be my idea [laughs]. I have a ritual called "No Phone Sunday" where I simply turn off my laptop and iPhone for the day and put them in a cupboard. I think it's a great think to do for your mental health!
What is the strangest fan request you've ever received?
I've been lucky so far – everyone has been really nice!
How important is social media to you right now?
If you want to be an artist, or even an entrepreneur, an activist, a politician, anything above the ordinary, you have to embrace social media and use it to your advantage. Before I started as a musician and releasing material, I didn't have an Instagram account, so it's not something that has come natural to me. However, I can see the benefits and I think the more you use it to communicate with fans and produce content, it can be really fun.
What do you want the world to look like in 10 years?
I would like people to value their life more and see it as an art- what world do they want to create for themselves? How does their career and lifestyle align with their identity as a person? What I get nostalgic about when I see movies from the 50s and read old books is that everyone was so well put together, they carried themselves proudly as their own person and appreciated beauty without becoming narcissistic or shallow about it. I wish the world would be more like that.
If you had the chance to put something on billboards worldwide next week, what would it be? Or what would it say?
We're so bombarded by advertising today, I've thought before that if I had the money I would love to just have black billboards with some white text giving an inspirational quote on. Something for people to consider as they drive down the motorway or walk along the street.
Do you have a personal fear you'd like to conquer?
Hmm the only fears I have are weird little things. For example, I have a phobia of being underwater – I hate it. But I can't say it's really making a dramatic impact on my life, so I don't have any fears that I'm particularly trying to conquer at the moment.
Aside from your upcoming projects, is there one thing you're all particularly excited about for the future?
I'm most excited about continuing to grow a body of work and create a new world around my music that offers a distinct aesthetic and mood that people can embrace. I'm looking forward to playing more live shows and keeping in touch with my fanbase. I mainly do this through an email newsletter that people can sign up to here.
Watch Jarod Lawley's music video for Everything That I Need You To Be here
INTERVIEW: ADAM CROOKES