DEVON is a 20-year-old producer, singer-songwriter and multi-instrumentalist hailing from the Forest of Dean in Gloucestershire. He has recently been on a UK tour with The Strypes and played the well-known Good Karma Club.
AC: Where does the creation of a song begin for you?
DEVON: The creation of a song begins on the acoustic guitar. Lately, I've limited myself and almost made sure I've written the song on acoustic before taking it to production on my laptop because I tend to get carried away with production and lose the song. Being strict with myself means I can be sure I have a good song going into be produced which will hopefully take it to the next level. This means I don't make a song every day but when I do manage to get it right the song always comes out super special to me. If it's not the best thing in the world at that point in time I will bank it and start another idea.
Who do you look to for inspiration when producing music?
I look to people like Frank Ocean, Twenty One Pilots, The Neighbourhood and Beck among many others. I like how these guys are just experimenting and using so many different sounds to make there already really amazingly written songs sound interesting.
What has it been like touring with The Strypes?
It was great touring with The Strypes. They were really welcoming and nice considering when I went on tour with them I didn't even have an official single out I just had a little demo on SoundCloud. They are really great lads and I wish them the best with there further projects.
Do you have any particularly memorable or funny stories from any of the gigs?
I haven't got a particular story but my drummer is easily scared so most gigs I try to capture a video of his brother scaring him. It's a simple pleasure but brightens up your day.
What is the strangest fan request you've ever received?
I'm actually yet to experience any weird fan requests but one fan has actually got a tattoo of my song! But that's not weird that's cool.
How much input do you have on the designs of your merch?
I design all my merch at the moment as I'm broke and can't afford to pay a sick graphic designer [laughs]. However, my day job is actually a graphic designer and I studied to be a graphic designer in college so I guess I will be doing it for a while to come. I would like to collaborate with a designer in the future.
What does 'F.O.D' on the merch stand for?
'F.O.D' stands for Forest of Dean. That's where I live.
How important is social media to you right now?
Yeah, social media is very important to me and my career at the moment. Unfortunately, I live in a rural area so opportunities are hard to come by. There isn't a music scene other than some old boys playing Jonny Cash covers in a pub. No offense to them, they gave me a chance back in the day to start performing at open mic nights.
However, there's not a young music scene with original music. So, the internet has played a huge roll in getting a fan base together, getting management and getting signed. I found my own way of getting my foot in the door and it has worked so far. I wish it wasn't like that somedays as you can be stuck on your phone all day which isn't healthy and it's hard not to be glued to it as it's the worst distraction.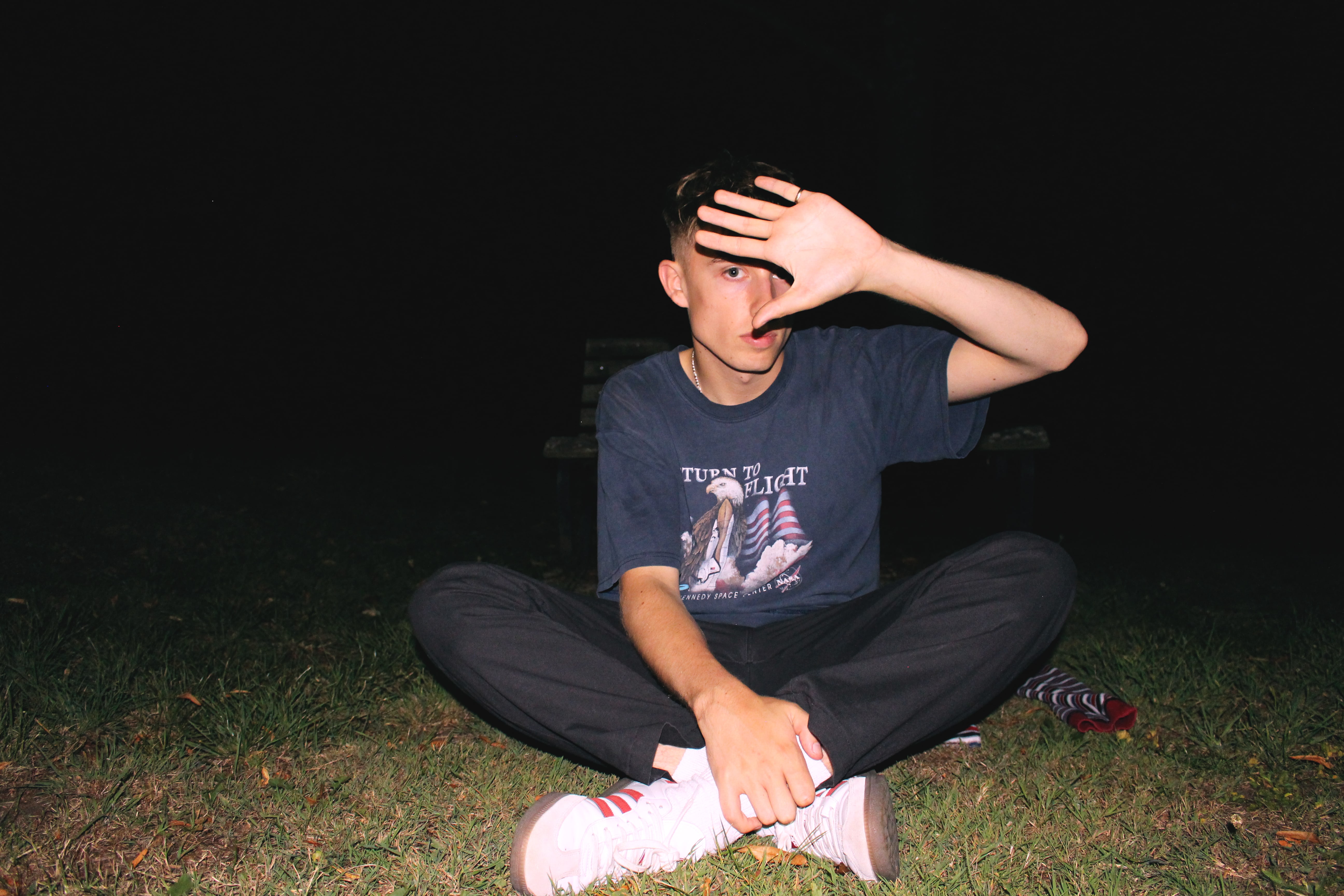 What do you want the world to look like in 10 years?
I want the world to be here for a start.
Everyone seems to have an app idea at the moment, what's yours?
My app would be a dog bark translator so my dog could bark into it and my phone would show me what they're saying.
If you had the chance to put something on billboards worldwide next week, what would it be? Or what would it say?
It would be a massive picture of my face with my Instagram handle. It would say follow for free money. No one is getting free money.
How are you listening to music – streaming, vinyl?
I'm streaming mostly but I do buy my favourite albums on vinyl because I just love having it and holding the vinyl.
What is a personal fear you'd like to conquer?
I would love to conquer my fear of heights. I can't even climb up a ladder without getting scared!
Is there one thing you're particularly excited about for the future?
Touring around the country, playing festivals, writing more music and being able to quit my day job.
INTERVIEW: ADAM CROOKES