MARK STANLEY takes the lead role in Scott Graham's Run. The drama, set in a remote town in Scotland, focuses on Finnie who once experienced the escapism of late-night drag races. Now, he works at a fish factory and it's his son's turn to dream and to race until Finnie steals his car for one last joyride. The film premiered at the London Film Festival and has just been released in cinemas.
AC: What can audiences expect from Run?
MARK STANLEY: Audiences can expect to find a film which really examines the nooks and crannies of perpetual domestic life, mixed with an Americana escapism one would normally find associated with Bruce Springsteen. In the North East of Scotland, men come of age through the streetcar racing scene. We find our protagonist, Finnie, at odds with every decision he has made. He and his wife Katie had children young, and he feels he is now trapped by the ill judgment of his earlier choices. He needs release, he needs significance, and those long roads leading out of town might just be his way out.  Following a dispute with his son Kidd, who to Finnie's disgust, is following in the exact same track as him at his age; he's not taking work at the factory where they both work seriously, he's also got his teenage girlfriend pregnant, Finnie takes Kidd's car for a drive, hoping to drum up some of the nostalgia which used to make him feel like he was in control of his now desperately insignificant life.
Can you give us any teasers about what is in store for Finnie?
Finnie is about to find out what in his life is truly worthwhile. A 24-hour journey awaits him, which will take him to the depths of his own self-pity, at times to the past he wishes he could recreate and finally to ask himself whether a road out of town might just be the salve to his broken life.
Do you have a favourite line of dialogue from the film?
When stood at the breakwater, they stare into the dark cold water and Finnie says "There's worse ways to go" Kelly asks "Like fit?" Finnie replies "anything slow".
I think Finnie is talking about his life here. Like a slow death he's been sentenced to. Amazing writing from Scott Graham. "Anything slow".
Can you recall any funny moments from on-set filming?
I remember being in a car for 12 hours a night with Marli Siu, then getting home to no hot water because she'd use it all in the B&B. I'd shout down, "Have you used all the fucking hot water again?!" [Laughs]
What was the reaction to the film like?
I think it's been great. It doesn't matter how specific to an area this story is. People from anywhere can get into the universal issues in this film. Lots of people see greener grass on the other side of the fence. I mean, who doesn't.
How can you tell when you're reading a great script?
It screams at you. Scott's did for me anyway. I knew people like Finnie. I know that perpetual life. Scott had captured it all in its raw form. That and mixed with the coming of age street racing it was a no brainier. I had to work for it and I wanted to. The detail was beyond normal. Scott had pained over this and that was obvious. So I chased it.
As an actor, what are you still trying to learn?
I'm still trying to come to terms with the fact I treat each project differently. Play the game in front of you. Some require a little more immersion than others. So I try not to worry about what "type" of actor I am. I stay away from "he's method" or "he likes a laugh". Sometimes I need to be fully with it, no distractions, and fully immersed. Really getting into the skin of a character like Run. Other times you'll be on a much more technical shoot that doesn't allow quite so much for that. Horses for courses. I just need to allow for all of it.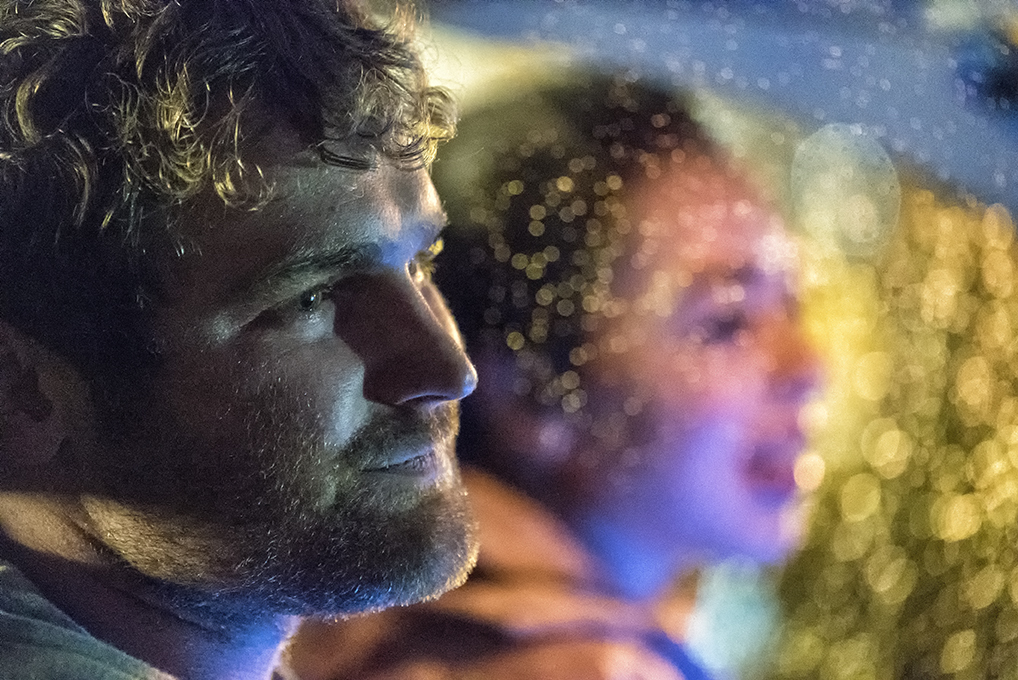 What can you tell us about Sulphur and White?
Sulphur and White followed directly after Run. I went from blowing exhaust pipes on 1993 Honda Civic's to driving Aston Martin's. So nice variation. But after meeting David Tait I knew what kind of project this was going to be. The message and conversation about child sexual abuse was going to take some understanding. Luckily for me, David opened up and we developed a trusting line of communication, as to be expected when dealing with someone who has been through the experiences David has. We sat for a long time and talked. He was there most days watching himself being portrayed, not always in a kind light. We wanted to show the effects of child sexual abuse in its truthful light. We wanted to show the level of collateral damage a victim of abuse can leave in their wake, and what kind of behaviour manifests from abuse. I believe David to be an incredible person. His voice is allowing for other voices to know they are not alone. The message was far more important than any of us, including David himself. We all knew that so there was a great focus and care with the filming process. David is the third real person I have played so I feel privileged to gain another insight and empathy for another persons circumstances. I felt honoured to be asked and to take his life in my hands. 
What was it like working with Julian Jarrold?
Julian is a wonderfully considerate director. He allows for play and space for mistakes. There doesn't feel like there's a pressure and he is always on the ball. He was a dream, and totally suited to have that warmth needed for a story like this.
When did you begin to see acting as a potential career avenue?
[Laughs] Never! Not until about the 2nd year of drama school and the movement we began exploring to do with shapeshifting and character work. That's when my ears pricked up. I've been lucky I think.
How important is social media to you right now?
I have started with Instagram this year. I'm still getting my head around it, but understand the importance of having a presence. It can also serve very well for messages like the one we are trying to spread regarding Sulphur and White and effects of abuse. It's a powerful tool. Just got to get to grips with wielding it!
What do you want the world to look like in 10 years?
Maglev trains, garden roofs and walls, forward-thinking gadgets but still keep the old boozers to go to and forget the world in.
Everyone seems to have an app idea at the moment, what's yours?
No idea!
In front of the camera. what is a fear you'd like to conquer?
Dare to be dull. Sometimes it can allow for a lot of nuances. Sometimes I need to remember that.
What can you tell us about your upcoming projects?
Other than the release of Run and Sulphur and White, there is a brilliant two-part drama coming your way that I'm in with Keeley Hawes. It's called Honour and it tells the true story about a Kurdish honour killing that happened in Lewisham. Great cast. Great director, Richard Laxton. Should be on ITV in the spring. 
Aside from your upcoming projects, is there one thing you're particularly excited about for the future?
I've just moved, so I want to get my head back into auditioning and finding some great work out there. It opens up so much about people does this job, time to get learning again.
INTERVIEW: ADAM CROOKES