Toronto Filmmaker ERIN CARTER and SAM COYLE new feature film Hazy Little Thing spotlights how social media has created a world of disconnection and loneliness within the millennial generation.
The film was due to make its world premiere at the 2020 Canadian Film Festival on March 27th here in Toronto. However, the Coronavirus Pandemic led to the festival's postponement. We spoke with Erin Carter and Sam Coyle about the film's journey to the screen.
What can audiences expect from Hazy Little Thing?
ERIN CARTER: Hazy Little Thing follows Billie, a writer, blocked, and struggling with fear of failure and lack of self-acceptance. After a particularly alarming post on social media, her sister and a few close friends rush to her rescue to throw a sort of intervention under the guise of a surprise birthday weekend. You can expect to see toxic ties to social media, a lot of strained family dynamics, struggles with depression and even a group encounter with psychedelics. It's full of heart, and humour, and above all a journey of self-love.
What does the story mean to you?
SAM COYLE: The film means a great deal to me, and parts of it are quite personal for Erin and I, as we pulled from our own experiences with depression. We gravitated towards telling a story about a woman struggling with her own self-worth, something we were all too familiar with. I wanted to explore this through my experience of self-imposed isolation: pushing people away unconsciously, yet constantly needing external validation. I felt strongly about the ending, by having the characters finally come together. Ultimately, this film is about connection, about allowing people into your world and communicating your feelings; that ending means the most to me.
Can you recall any funny moments from on-set filming?
EC: Honestly this film was made with a group of friends- mostly well acquainted prior to filming- and because the set was so small (just five actors and six crew) there was a lot of fun to be had. Everyone staying in the same house always gives things a summer camp vibe, which as many independent filmmakers know, makes for some very interesting stories. Family-style meals and a few brews at the end of a long day are always fun, but I think the pool takes the cake for funny moments. We did so much shooting in the pool, our DOP spent 20 percent of their time in a rash guard/snorkel/goggle combo. Actors were constantly hanging by the pool, even five minutes before their set calls, and of course, there's the obligatory skinny dip when everything was said and done. Classic summer camp move really.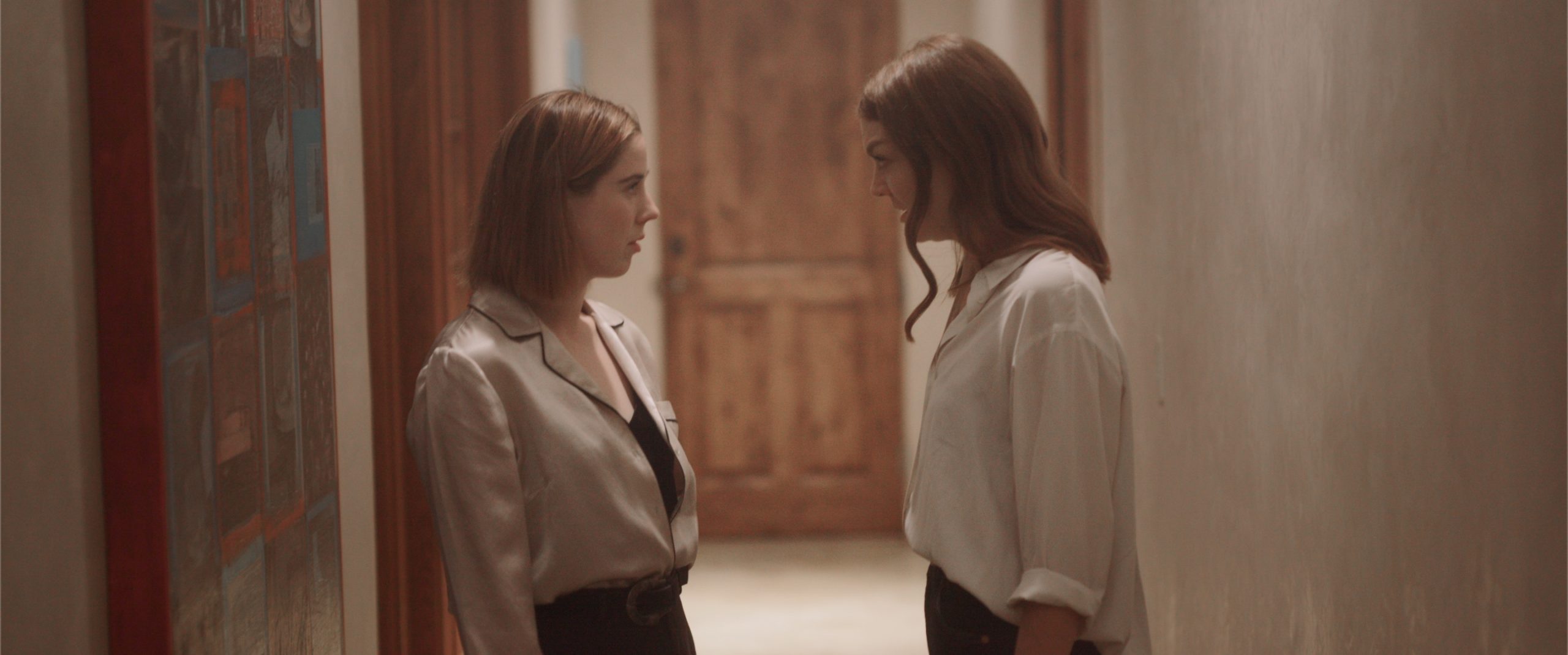 How did you approach casting this film? What was your initial pitch for the project?
SC: I come from an acting background, so I have many actor friends whom I have worked with on most of my projects, and, because Erin and I wrote the script, we always knew she would play Billie. But to be honest, we wrote it with three other actors in mind. They are close friends, but, because we shot in Arizona, we weren't able to use those actors, unfortunately. So I re-evaluated the roles and took another look at my circle of friends/acquaintances to see who would be the best fit. I was able to choose three new actors who were different versions of the characters, but very in line with the roles. My pitch has always been the same: it's a film about social media, depression, and psychedelics. That always seems to pique people's interest. My first choice of actors leaped at the opportunity, and the rest is on the screen.
How do you like to work with your actors on-set?
SC: Every actor is different, so I tend to try and assess how they like to work so I can make the communication as smooth as possible. My main approach is to look at it as a collaboration; after a discussion of the script and story, I let the actors bring their version of the character to set. I try to have little judgment about how I want them to do it and see what they bring first. Great actors have fantastic instincts and are able to bring characters to life in ways you never expected, so I try and allow those instincts to thrive. When I need to make adjustments, I bring in the concept of the "moment before" (where they are coming from and their motivation) to ground the actor in the circumstance. If a moment isn't landing, I generally ask questions of the back story and why the character is making that choice. This is normally where I find the whole of objective or intention. When you fix that, your note makes more sense to them. So it becomes less of a criticism on their choice, and more of a discovery to find the essence of the scene.
Who inspires you both?
SC: Jean-Marc Valle, Agnes Varda, Spike Jonez, Ava DuVernay, Phoebe Waller-Bridge and Paul Thomas Anderson are directors and writers who I am constantly inspired by. You can see much of their influence in my work. Jill Soloway is also a massive inspiration to me as a creator. I have watched and read many interviews on how these artists conduct their sets, and I admire the openness and vulnerability they bring to their work. As a director, you are the one who sets the tone. I believe you can enjoy your life on film sets; it's hard work and long hours, but you don't have to make it hell for anyone. You are creating art, and it should be enjoyable for the most part.
EC: I, of course, am drawn to artists who dabble in more than one aspect of the process- Phoebe Waller-Bridge, Greta Gerwig, Lena Waithe to name a few. I'm inspired by those who make work for themselves and those who push to make particularity personal stories. I also love when things ride the line between comedy and drama, having used comedy as a coping mechanism most of my life, I really do appreciate the grey areas of tone. Always nods to Zach Braff (fight me on it, I dare you), Lynn Shelton, and Jill Soloway in that respect.
What were some of the unique challenges posed by this production?
EC: Well, considering the fact that we were working on a shoestring budget with the absolute bare minimum crew, we didn't run into as many challenges as I think we expected. We had to move at a pretty quick pace, which has its challenges, but the other thing that comes with a small crew and a small budget are that you become really efficient with decisions and gear set up. So I think it all evened out time-wise. I think the loftier script elements were our biggest challenges- finding inventive ways to create style in the high sequence and shoot underwater with limited gear/resources were both trying at times. I think we reshot the underwater sequences three times, so there's that. Basically all this to say, our crew was amazing, very creative, and ultimately made everything work with very little.
How did you approach writing the script?
EC: Sam and I have been collaborating for a while now, so the process was pretty organic. This script was born out of a desire to make something that didn't need to wait for financing, which in a way helped shape the story. In classic one-room-script style we had to write for a specific location- the one we had for free- and keep everything pretty grounded. We're both super hands-on when it comes to writing and pass drafts back and forth a lot, we're not the kind of co-writers who split scenes. I think there's a bit of each of us in mostly everything.
The film was supposed to have its premiere at the Canadian Film Festival. What is the plan for the film now and how are you both navigating through the current situation we are in?
SC: To be honest, it was a massive heartbreak when we found out the festival was postponed. The pandemic paused the whole world, making us re-evaluate the future of our film release. The climate for festival season is very precarious in the coming months, but I think it's made people shift their view on what a festival can be. The coordinators at Canadian film fest have come up with an exciting alternative, creating a virtual festival by teaming up with a streaming platform to host the festival. Follow @hazylittlethingfilm for all the upcoming details.
How important is social media to you both right now?
EC: I think we both feel a complicated relationship with this question. It's the reason we wanted to integrate themes of social media into the film, to begin with. I think when we were writing, we were both dealing heavily with various negative effects of social media. For me, it was never a question of importance- but of addiction. I feel right now I still seek the same escape social media provides, but I think the importance of showcasing myself has plummeted drastically since writing Hazy Little Thing. It's not that I don't rely on content to distract me as much as the next person, especially in these times, but since writing about the negative feedback loop of posting for affirmation I have felt less tied to that narrative.
Do you think this pandemic will increase the awareness of social media isolation?
EC: Not really. I think maybe self-awareness when it comes to what kind of content we consume is going up, but I think- if anything- these times we find ourselves in are exasperating the problem, not bringing it to light. Maybe I'm wrong though, maybe when everyone gets their weekly screen time update, and the numbers are through the roof, they are more likely to re-think the time they've spent scrolling instead of being present. I just can't help but feel like people are finding solace, now more than ever, in the escape of it all.
What do you want the world to look like in 10 years?
SC: I hope this situation makes people re-evaluate how our world operates going forward. In 10 years, I hope we become more empathetic to our neighbours by realizing we are all in this together and everyone has the right to proper healthcare and rightful pay wages. Our technology will also probably be superior by then, and my hope is that we use it effectively while taking the proper precautions without getting too wrapped up in the fear and anger that often accompany quick advancements. I hope it opens communication between borders, and allows us all to work together to create a safe and more inclusive global community.
Everyone seems to have an app idea at the moment, what's yours?
SC: That's classified information. But keep your eyes peeled for a revolutionary new app releasing soon!
EC: I have never and probably will never come up with an app. Mostly because I am constantly of the mind that they already exist…
If you had the chance to put something on billboards worldwide next week, what would it be? Or what would it say?
SC: Money isn't everything. Invest in the things that matter: friends, family, and your personality.
EC: I feel a wild pressure to be smart here, but honestly, probably something like 'Apathy is overrated'. Or like, maybe just a picture of Trump photoshopped into a bikini with the word 'Why?' next to it…
INTERVIEW: ADMA CROOKES