CIARA CHARTERIS has been starring in one of this year's most-talked about British dramas – POLDARK.
Ciara will take on the key role of Harriet Shelley, first wife to Percy Shelley (played by Douglas Booth) in Haifaa Mansour's MARY SHELLEY – alongside Bel Powley, Elle Fanning and Tom Sturridge. The story is based on the love affair between a poet and a young Mary Shelley which led to her writing Frankenstein.
We talk to Ciara Charteris about her career beginnings, her role in 'Poldark' and what to expect from her new film 'Mary Shelley'.
You trained at the Royal Welsh College, how much of an insight did that give you into the craft of acting?
It definitely helped me to understand the stamina you need to maintain the craft. Vocally, physically and mentally to keep yourself at optimum level for work at all times, whether you're working, auditioning or resting.
When did you first realise that acting was your passion?
I've grown up in an industry filled family. I'm actually the 4th generation in my family to go into this business! It's hard and it can unpredictable, so I've definitely seen first-hand all the reasons why not to, and in many ways I'm sure it would have been easier to have gone into something different. However my own love and passion for performing from a young age shone through; from training in dancing as a child, to singing, acting and making up my own shows (to the horror/delight of my fellow school friends and family!) Then I spent two summers with the National Youth Music Theatre and there was no going back.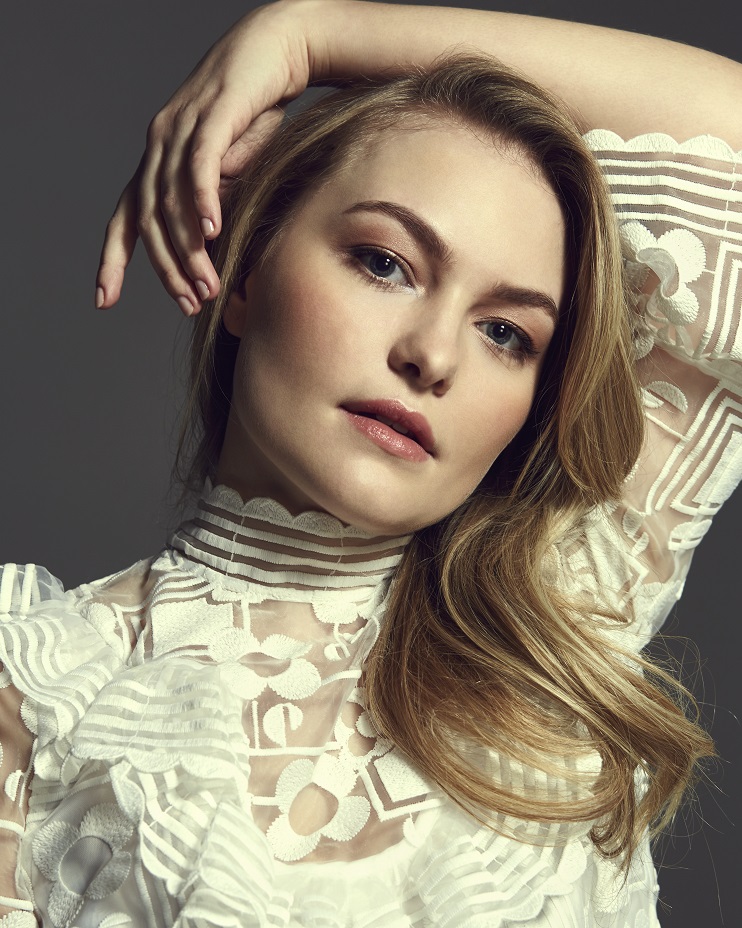 In just a few years you've starred in some of the most talked about dramas on British TV, how does it feel to have been a part of such great ensembles?
I just feel incredibly lucky and grateful to have had the opportunity to work with and learn from so many amazing actors and talents.
Since College, would you say that a lot of your learning has continued with being on these sets?
Oh absolutely, you learn so much on the job, in fact I don't think you ever stop! Every job, every set, every crew, and every cast is different, another amazing experience, another journey! It's actually one of my favourite things about this world of work, you never stop learning and meeting new people. It's a joy!
Everyone is talking about 'Poldark' right now – there must have been so much excitement filming this season with the success that the first had.
Yes it's an incredible show to have been a part of! Once again I feel incredibly lucky! And the fact that it is so beloved by so many people just makes the chance to work on it even more exciting.
Talk to us about your role – where do you fit into that story?
Emma is one of the love interests for Sam Carne, Demelza's brother. She's a very freewheeling feisty young woman, she goes for what she wants and at first she can seem like she's around to stir up trouble, but she's actually got a big heart and a lot of love for Sam.
'Mary Shelley' is both directed and written by women – in comparison to your other projects, do you think that there are enough women in these key slots? Is it improving?
I think we are definitely still part of a male driven industry, especially on the sets themselves. But that said, the work that is being done, and the power of the incredible movements currently at work throughout the industry by women is an amazing thing to watch, and be a part of. It was an amazing experience to work with Haifaa al Mansour, the powerhouse female director of Mary Shelley, alongside the incredible female leads, Elle Fanning and Bel Powley. It was a wonderful and empowering set to be on and an inspiring female story I feel incredibly grateful to be even a small part in telling. I hope to be a part of and see similar projects and sets like these in the future!
Tell us about your role in the film, I can imagine there being some research involved for your part – how much did you do?
I play Harriet Shelley, Percy Shelley's first wife. Her story in itself is rather tragic, but I don't want to spoilt anything! I did quite a lot of research mostly to be prepared for the role but also because I found the story just so interesting! Crazily enough when I was auditioning for the role and doing research I found out that Harriet actually went to school around the corner from where I live now! Spooky!
'Mary Shelley' has a great cast – who did you particularly enjoy working with on-set?
It was an amazing experience to get to work alongside many of the incredible cast members! But to share the screen and have my scenes with Elle was pretty awesome, she's a wonderful person and actress.
Of all the people you've starred alongside over these past few years – who have you learnt the most from?
I learnt so much from Alfred Molina on my first job, Close To The Enemy. I had never been on a set before and I didn't really have a clue what I was doing! Most of my scenes were with him as I played his niece, and he was so lovely and really helped me get to grips with everything and learn the tricks! He was an incredible actor and person to learn from and work alongside.
Is there one thing that you're the most excited about for the future?
Part of this job is finding the excitement in not knowing what's to come in the future! So who knows! But it's definitely exciting!
PHOTOGRAPHY: MONTANA LOWERY
INTERVIEW: ADAM CROOKES
Send a Letter to the Editor about this Article