With renowned photographer Matt Doyle, BILLY MAGNUSSEN – a New York-native – took part in a photoshoot on a December winter's day in the city for CROOKES Magazine.
Having been immersed in the acting world for a decade, Billy Magnussen has steadily steered a career of diverse roles in film, television and on the stage. "Each project is a building block. A different lesson is learned through each project, and I would be cheating myself if I didn't honor each part equally", as he said to us.
A rarity in the industry, Billy Magnussen is achieving success in all three mediums. Whilst Billy is best recognized for his work on the big screen (with performances in Into The Woods, The Big Short & Bridge Of Spies, his roles on the stage have bought gained wide acclaim.
In 2013, Billy was nominated at the prestigious Tony Awards for Best Featured Actor In A Play for his role in Vanya and Sonia and Masha and Spike, in which he played Spike. When I asked Billy about his experiences on the stage, he was quick to exclaim his love of performing at theatres: "I find myself craving to live a character out on stage again. To just eat up and breath every human emotion within two acts and an intermission. Theatre is so challenging, but after a show, that bow, honor, gratitude, love – it is worth everything."
"Receiving the opportunity to play, dream and imagine again is a spectacular gift."
Magnussen's last performance on stage was back in 2014, in a critically acclaimed off-broadway production of Sex with Strangers alongside Anna Gunn, directed by David Schwimmer at the Second Stage Theatre – for which he received praise for his 'quirky comic lines' and his 'bouncy magnetism'.
This magnetism has only increased in the most recent years. Billy's focus has turned to film and television roles – most notably in the Academy Award-winning Bridge Of Spies and the Academy Award-nominated Into The Woods, as well as the Emmy-winning shows like Black Mirror and Boardwalk Empire. I asked Billy if he had a dream role – to which he replied: "Every role I get is a dream role. Receiving the opportunity to play, dream and imagine again is a spectacular gift. To be working as an actor is an honor."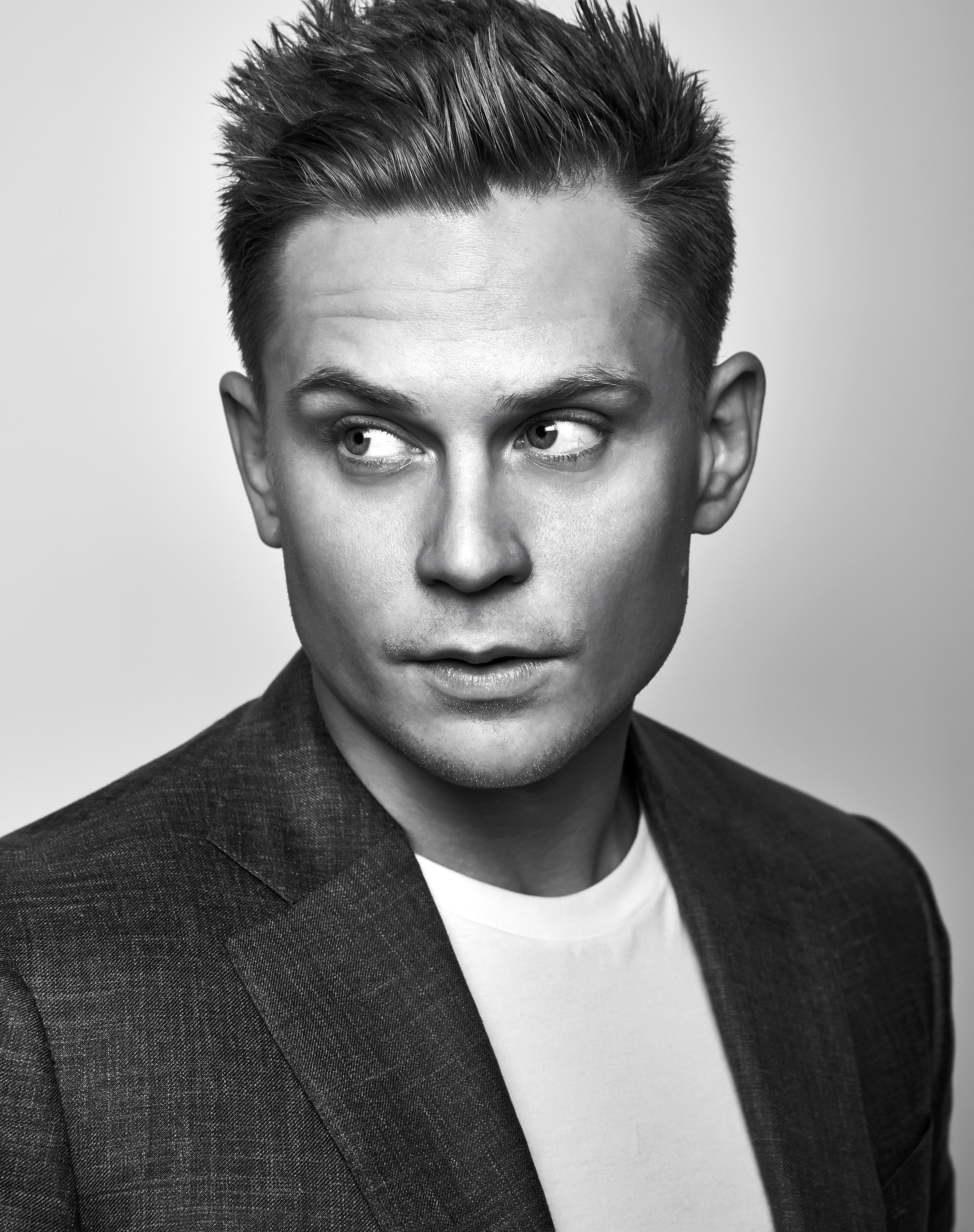 On the 29 December, Netflix dropped a new season of the award-winning anthology series Black Mirror. Every season, there inevitably seems to be one particular episode that gets every talking – and this year – that episode was the Star Trek-inspired nightmare USS Callister, starring Billy Magnussen. "This gentleman knows what's going down", Magnussen said speaking of the show creator Charlie Brooker. "Are you asking me to play a space alien villain? Where do I sign?". Billy also pointed out to me that he starred alongside Chris Pine (who plays the leading role in the most recent Star Trek films) in Into The Woods only a few years ago, "Live long and prosper" he exclaimed. I asked him if he could imagine an alternative title for USS Callister, to which he replied "Play Nice" – referencing the antagonist's alter-ego that is inflicted upon those stuck in the Star Trek-themed virtual reality – including Billy's character.
This February, Magnussen is heading back to the big screen as part of an ensemble cast in the mystery thriller comedy Game Night. In this hilarious comedy, Billy will star alongside Jason Bateman, Rachel McAdams and Jesse Plemons – who he recently worked with before in Black Mirror. "I have to say, I gained a friend with that guy [Plemons]. He has a hardworking Texan heart. If he tells you he beat me at a game of pool, he is lying and he still owes me twenty bucks."
The story follows a group of friends who meet regularly for their game night, and one night they find themselves investigating an actual murder mystery. I asked Billy when he last had a Game Night – "Just rocked out a Game Weekend up in Wyoming." I was naturally intrigued as to what games he played, "There are too many I love: Betrayal at House on the Hill – a lot of rules, but worth the stories, Cranium – I've never yelled so much, Running Charades – you can skip the gym that day and Credit Card Roulette – you don't want to lose."
Then in March, Magnussen will be starring in satirical thriller The Oath. Set in a near-future America in which citizens are required to take a loyalty oath — follows a man trying to make it through the Thanksgiving holiday without destroying his family. "To work with Ike Barinholtz and Tiffany Haddish, who are hilariously badass gracious people, was such a pleasure. I laughed and enjoyed myself so much making that film with them."
Another project we'll get to Billy in later this year will be Netflix's Maniac with Academy Award Nominee Jonah Hill and Academy Award Winner Emma Stone. "Cary Fukunaga and Patrick Somerville [Director and Writer respectively] made a crazy playground to play on. I truly cannot wait to see it myself."
It's a busy year for Billy and his team, but he shows no signs of slowing down, with a role next year in Guy Ritchie's highly-anticipated live-action reimagining of Aladdin. I asked him what audiences can expect from the film, to which he simply replied: "To be surprised". For my last question, I was interested to know who Billy Magnussen had ambitions to work with: "Dreamers – Damien Chazelle, Steve McQueen, JJ Abrams."
Game Night hits cinemas on 23 February
PHOTOGRAPHY BY MATT DOYLE
INTERVIEW WITH ADAM CROOKES
GROOMING BY CECILIA ROMERO
STYLING BY CATHERINE PERIDIS