MARGARET CLUNIE has been stealing the show this year, most notably on ITV's 'Victoria' - a drama series centering around a young Queen Victoria in which Clunie portrays the Duchess of Sutherland. Harriet Sutherland used her friendship with the Prime Minister to secure a place as Victoria's Lady-in-Waiting. I spoke with Margaret about her interest in fashion, learning about the Victorian era whilst on set, and her ambitions as an actress for the future.
AC: Did you work with the costume designer closely on what Harriet Sutherland would have worn?
MARGARET CLUNIE: Roz (Ebbutt) the wonderful costume designer created the most brilliant wardrobe for Harriet. We used a couple of portraits as reference and tried loads of options which was amazing and we ended up with a pretty extensive collection of gowns. It's great getting to play someone who was considered so fashionable and glamourous. Choosing all of her jewellery was always fun - in series two we had a couple of brooches that really made me laugh as one of them was a portrait of the Queen, Harriet and her were great friends in real life but actually wearing a pendant of her really cracked me up on set! They were very fashionable at the time and would have certainly been worn by ladies of the court but I always thought it was a bit of a suck up on Harriets part!
Is fashion an interest of yours?
It definitely is - I've worked in fashion since I was a teenager and love dressing up, trying on mad things and experimenting. Although I wore a dress recently for a party that had a fairly see-through skirt and I had to wear some serious Bridget Jones style pants underneath that I really wasn't sure about but they did make me laugh, which I think is always important - never take anything too seriously...even fashion!
Was history something that you enjoyed learning about at school? With 'Victoria', did most of the learning come through research before filming or did you learn things on set as well?
I did enjoy History at school but hadn't studied the Victorians since about year six when I was eleven so I did have to re-visit the period! Most of my research before the show was specifically on Harriet and the ladies in waiting - a system I didn't really know very much about, but on set you certainly learn a lot. We have an amazing historical adviser called Alastair Bruce who knows the Victorian world back to front. He also taught us all how to curtsey properly; you have to bend down pretty low and let me tell you, after a few takes it burns your legs...it's basically a squat.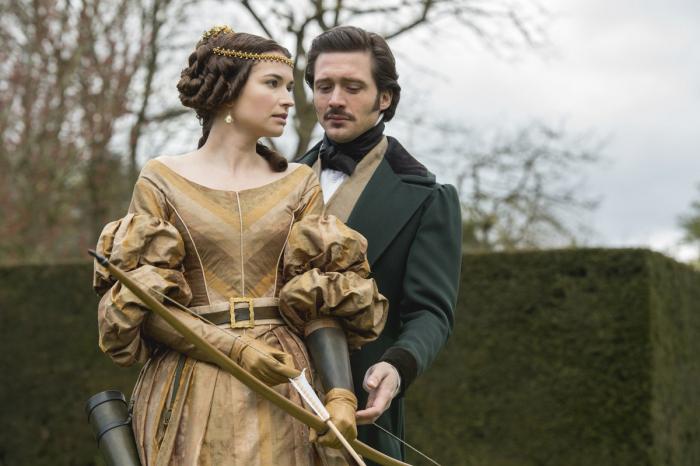 Margaret Clunie in 'Victoria'
Photo Credit: ITV
What can we expect from your character in the Christmas Special?
Harriet has yet another tough time at Christmas - she finds out why Ernest didn't show up to (presumanbly) propose to her at the end of series 2 and when she tries to rectify that, it doesn't really end that well for her! Saying all that, she does get to spend Christmas at Buckingham Palace where not only is there festive ice skating, and some of the most beautifully decorated trees I've ever seen, but the Christmas dinner was pretty epic too!
How do you get into character?
Putting on the costume and getting into hair and make up every morning takes you so far away from yourself - it's a great start! The corset in particular always helps me stand bolt upright and walk a little slower, getting into the right pace!
Is there a TV Show currently airing that you'd love to guest star on?
I think we're in the golden age of television - theres loads of stuff I'd love to work on. 'The Handmaids Tale' was a stand out show for me this year and I've just finished 'Alias Grace' on Netflix - Margaret Atwood (author) is a genius!
What ambitions do you have as an actress moving forward?
It sounds so simple but I just want to keep working with great people and on great scripts. My idea of success is going from job to job and being busy, I just hope I can keep doing what I love!
Twenty Questions with Margaret Clunie
Favourite film?
'Almost Famous'.
Best show to binge-watch?
'Schitts Creek'.
Everyone has a clever app idea, what's yours?
To make some sort of standardised Self Tape recorder so you can film, edit and send audition tapes really easily, because they can be a nightmare sometimes!
Last photograph you took?
I took a group snap of my friends outside the theatre after we all went to see 'Hamilton', which was amazing!
Favourite actress?
Ahh too many, really feeling Cate Blanchett and Greta Gerwig at the moment.
What is your favourite quality about yourself?
I've always been quite smug that at 5'10", I've only got size six feet! don't know why though!
Where were you born?
Watford.
What was the last country you visited?
The US, I just got back from NYC.
What about your favourite country to visit?
Italy is always bliss.
Last song you listened to?
Big Shaq, Mans Not Hot
Is there a sport you wish you could play?
I pretty much hate sports thanks to a complete lack of skill at any of them...but I really wish I could dance. Alas, all I have is gangle.
What's your hidden talent? I can open bottles with my teeth.
Best gift you've ever received?
My dad went on business to America the Christmas that iPods first came out and he brought them back for my sister and I as a major surprise, which was very cool.
Toughest audition?
A commercial audition. I once had to pretend to wake up the morning after a party, climb over 'sleeping people' whilst 'looking for my shoes' then have a flash back to the night before where I then had to pretend to tightrope walk whilst singing a song. It was for hair straighteners...
Do you have any pets?
We have a family cat called Saffi who is basically treated like the third child.
Biggest pet peeve?
People who spit in the street!
Favourite word?
Onomatopoeia - it's very satisfying to say aloud
Last book you read?
My Brilliant Friend by Elena Ferrante
Advice to your younger self?
You get inexplicably upset at never being very good at maths at school - it does not matter. At no point in your adult life has anyone ever mentioned long division or fractions, don't stress about the small things...like equations. Also, 2014 is going to be the worst year of your life, there will be absolutely no jobs for you but that's the nature of the beast sometimes. Get ready to cry on the sofa a lot, but don't worry, it gets a lot better after that.
The Victoria Christmas Special, 'Comfort and Joy', will air on ITV on Christmas Day at 9pm. Season 2 will air on Masterpiece PBS on January 14th 2018.
© 2018 Crookes Magazine / Adam Crookes